YUNEEC Breeze 4K
Type

Quadcopter

Class

For video recording; Travelling and outdoors; Selfie Drone

Camera

Built-in camera, 13 megapixel

Flight time

Up to 12 min

Control range

Up to 100 m
EVERYTHING AT A GLANCE:
Your very own flying 4K selfie drone to take wherever you go
Vertically pivotable premium 4K UHD camera with high-class Ambarella chipset
Video resolution: 3840 x 2160 pixels
Photo resolution: 4160 x 3120 (13 MP)
Control via smart device including 720p live image
Perfect indoor and outdoor stability thanks to GPS and IPS sensor system with optical flow
Share images and videos directly via social media
Removable, rechargeable LiPo battery and charger included
It follows you whenever you want and wherever you go, lands with the flick of a switch, flies around you or slowly flying away from you and towards you (auto flight modes Selfie, Follow Me, Orbit, Journey, Return Home)
Live stream function (only for iOS)
FPV & Controller Kit, available separately
The Breeze drone comes with a rechargeable battery and charger, a transport box, spare rotor blades, USB cable for data transfer, a user manual and optional rotor protection guards for indoor flights.
Full description
Your flying camera
Introducing Breeze, the flying camera designed with you in mind. Both convenient and compact, Breeze is controlled by your iOS or Android device with the Breeze Cam app and weighs just under 1 pound. Now capture aerial photos and video of your daily adventures effortlessly– and do it in stunning 4K Ultra High Definition. Simply take Breeze out of the box and let it fly.
Incredibly easy to capture breathtaking shots
Both convenient and compact, Breeze is controlled by your iOS or Android device with the
Breeze Cam app and weighs just under 1 pound. Simply take Breeze out of the box and let it fly.
Watch video about this function
Superior image quality. Unique and dramatic photos are now possible with a click of a button
Featuring breathtaking 4K Ultra High Definition and ultra-clear 13 megapixel stills, Breeze is just as capable as drones twice its size. See a live 720p live transmission of your flight on your smart device while you fly. The quality is comparable to products costing twice as much.
Upload and share in a snap
Download the app on your mobile device to control and navigate Breeze, edit photos & videos, then instantly share to your favourite social media sites.
Once you've captured photos and videos with Breeze, downloading and sharing via your favorite social media is quick and easy. Select the photo or video you would like to share and choose which social network you would like to share to. You can write a personalized message and share instantly, all without leaving the app interface. It's that simple.

Breeze does the work for you
No flying experience necessary to take dramatic aerial photos and video, simply pick from 5 automated flight modes to get the shot of your choice.
When flying your Breeze you can choose from one of the 5 automated flight modes; Pilot, Selfie, Orbit, Journey, and VisionTrack.
At just under one pound, and with foldable propellers, Breeze is the ideal flying camera that can be taken anywhere. Carrying case included.
Live in the moment and let Breeze do the work. In Follow Me mode, Breeze uses GPS to track your movement.
Thanks to the built-in Indoor Positioning System (IPS), Breeze can hold its position both indoors and outdoors.
Once you've captured photos and videos with Breeze, downloading and sharing via your favorite social media is quick and easy.
Auto Return to Home & Land
With a tap of a button, you can bring Breeze home and land it. No flight experience is necessary
For video recording; Travelling and outdoors; Selfie Drone
Built-in camera, 13 megapixel
Video recording resolution
UHD (4K): 3840 x 2160/30 FPS (480p live image) // HD: 1920 x 1080 / 30 FPS stabilised (720p live image)
5 m/s (limited by software)
| Store | | Shipment | Region | Product | Price | To store |
| --- | --- | --- | --- | --- | --- | --- |
| | Yuneec EU Official Store | Fast delivery | EU, EEA, UK | YUNEEC Breeze 4K | Currently unavailable | Visit Store Buy Online |
How do I download the Breeze Cam app to my phone?
f you are on an iOS device go to the App Store and search for "Breeze Cam". If you are using an android device, go to the Google Play store and search for "Breeze Cam".
How do I connect my phone to my Breeze?
Go into system settings and turn on Wifi. Look for the Wifi named "Breeze_xxxxxx". The default password is 1234567890.
How do the task modes work?
Pilot: In Pilot mode you have total control over the Breeze and can manually steer it using your virtual control sticks or by tilting your smart device like an ordinary RC model. Selfie: In Selfie mode anyone can position the drone even without prior flight experience. Simply use the sliders in the app to adjust the distance and altitude – you're ready to go. Say Breeeeeze. Orbit: In Orbit mode you can easily task the Breeze to orbit around you or another object. The flight can be paused at any time. Journey: In Journey mode the Breeze flies slowly away from you. You remain in the picture the entire time. It then takes the same path back to you. Follow Me: In Follow Me mode you fly the Breeze manually to the desired height and distance you want the drone to follow you from. The Breeze will then follow your every move (or that of your smartphone).
How do I download images from the Breeze?
You can download images from Breeze with two different methods. Firstly, open the gallery on the home screen of the app. After you select a photo it will download to your phone in full quality. You can also plug a micro USB cable into the Breeze to directly upload images onto a computer.
Which social media sites can I share to?
Facebook, Twitter, Instagram, Flickr, WhatsApp, Google+, WeChat etc.
The Breeze's internal memory is full. How do I clear it?
If the internal memory on the Breeze is full, you will want to first make sure all your images and videos are backed up on your phone or computer. Next, you will need to go into the Camera Settings menu and select "Format SD Card".
Why does the image on my phone not look stabilised?
Breeze features Electronic Image stabilization of the recorded media and video downlink in 1080 & 720 HD settings. The downlink will not be stabilised in UHD mode and Photo mode.
Can I change the video resolution?
Yes. In the Breeze Cam app, you can select from three different options. UHD (4K) = 2160p @ 30 FPS FHD = 1080p @ 30 FPS with digital stabilisation HD = 720p @ 60 FPS with digital stabilisation
Can I change the downlink resolution?
The resolution of the downlinks depends on the video settings. UHD = 848 x 848 @ 30 FPS FHD = 720p @ 30 FPS HD = 720p @ 30 FPS
I can only use pilot mode. Why?
If you are inside a building or have poor GPS signal you will be limited to using Pilot Mode. The other flight modes require a GPS signal for positioning.
Will the drone hold position inside?
Yes. Breeze is equipped with Indoor Positioning Sensors (IPS) that use textures on the ground to hold its position. Breeze also has an infrared sensor that gives centimetre accuracy of altitude. It is highly recommended to use prop guards when flying indoors.
My smartphone has disconnected from the drone. What should I do?
If your phone disconnects from the drone, do not close the app. The drone will reconnect automatically. When closing the Breeze Cam app, the Breeze returns to its starting point.
DRONES LATEST NEWS
LATEST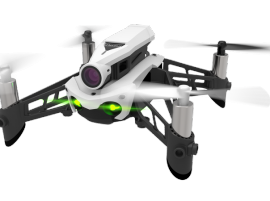 Parrot plans to stop selling Mambo and Swing drones
Parrot discontinued the Parrot Mambo Fly, Parrot Flypad, and Parrot Swing. According to Parrot, the company is exiting the toy and mini-drone industry, shifting its focus to prosumer and commercial drones.
Drone company Parrot, maker of the Anafi 4K folding drone, is reportedly leaving the mini-drone market. This week, Wirecutter confirmed that ...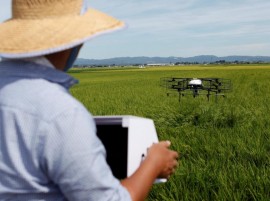 Drones offer high-tech help to Japan's aging farmers
The next generation farmhand in Japan's aging rural heartland may be a drone.
Nileworks Inc.'s automated drone flies over rice plants, spraying pesticide while diagnosing growth of individual rice stalks, during a demonstration in Tome, Miyagi prefecture Japan August 20, 2018.
For several months, developers and farmers in northeast Japan ...
Show more