Yuneec H520 / H520E
Class

Professional; Industrial applications; For video recording

Type

Hexacopter

Camera

Gimbal
Compatible Cameras:
E90x (YUNE90XUS)
CGOETx (YUNETXUS)
E30Zx (YUNE30ZXUS)
E10Tx (YUNE10TXUS)
E10Tvx (YUNE10TVXUS)
DB2x Vision Laquianta

Control

Remote Controller; ST16S Personal Ground Station

Flight time

Up to 28 min (depending on payload weight)
KEY FEATURES
● New Powerful flight control processor
● New battery connector with fail-safe design
● New 3.5-7 km* long-range OFDM module
● Designed for professional, commercial and governmental requirements
● High-precision, low-interference compass
● New 30 pin payload interface
● No data transfer to external servers
● Stable and safe 6 rotor system
● Energy-efficient and quiet operation
● ST16E with integrated 7" touch display, voice output and comprehensive DataPilot software
● HDMI signal directly from the ST16E to output the drone's live image onto larger monitors
● Mission planning on the computer or ST16E
Buying options: H520E (Airframe only), H520E & E90X Bundle, H520 & E90 Bundle, H520 & E30Z Bundle
Full description
COMMERCIAL AERIAL SOLUTION
The H520E-OFDM Hexacopter was specially developed for commercial drone applications and provides SAR ground teams, inspectors, police, fire brigades, and surveying teams with a versatile tool. The H520E-OFDM is a robust, powerful, and flexible UAV platform that can be ideally adapted to individual requirements and thus enables a variety of industry-specific applications. Long flight times and high-quality camera systems with embedded GPS data allow an area to be recorded quickly and precisely, while the interference-free precision compass enables flying even in previously difficult-to-fly environments. In addition to the performance and flexibility, great emphasis was placed on the drone's flight and data security when developing the platform.
Source: https://store.yuneec.com/h520e-airframe.html
Professional; Industrial applications; For video recording
Gimbal
Compatible Cameras:
E90x (YUNE90XUS)
CGOETx (YUNETXUS)
E30Zx (YUNE30ZXUS)
E10Tx (YUNE10TXUS)
E10Tvx (YUNE10TVXUS)
DB2x Vision Laquianta
Remote Controller; ST16S Personal Ground Station
Up to 28 min (depending on payload weight)
FCC Compliance: Up to 1.6km/1 mile CE Compliance: Up to 1.6km/1 mile
Altitude Hold Mode; Automatic Landing Technology; Automatic Precision Landing; FPV; Follow Me Technology; GPS; Position Hold Mode; Return to Home Technology
Yuneec H520E Commercial Hexacopter Airframe
ST16S Ground Station Controller
2x 4S-6200mAh LiPo Batteries
Charger
OFDM Module
Clockwise A Rotors
Counter-Clockwise B Rotors
16 GB MicroSD Card
USB Cable
Power Cable
Yuneec Limited 1 Year Warranty
| Store | | Shipment | Region | Product | Price | To store |
| --- | --- | --- | --- | --- | --- | --- |
| | Yuneec Official Store | Warning: Invalid argument supplied for foreach() in /var/www/fastuser/data/www/droneadvisor.tech/wp-content/themes/drones/single.php on line 176 | Worldwide | Yuneec H520 / H520E | $2,399.99 | Visit Store Buy Online |
| | Yuneec EU Official Store | Fast delivery | EU, EEA, UK | Yuneec H520 / H520E | €2,378.81 | Visit Store Buy Online |
What is the maximum windspeed I can fly the H520?
Up to 6 BfT. Approx. 50km/h
At what temperatures can the H520 be flown?
The H520 can be flown from -10°C to about 40°C. Note that the battery shouldn't be cold. A cold battery can lose up to 40% of its performance. At temperatures above 40°C, the electronics may experience a heat problem during continuous operation. The system may need to cool down now and then.
Which factors can affect the flight time?
Temperature, payload, altitude and wind affect the flight time.
What are the advantages of 6 propellers?
Resilience. The H520 can be landed safely also with 5 motors and is wind-stable and quieter than a Quadcopter.
When does the H520 turn on 5 Motor Mode?
If a propeller breaks down or a motor fails, the H520 will switch to 5 Motor Mode and keeps flying.
What is the maximum takeoff weight of the H520?
Max 2,5 kg (takeoff weight incl. copter).
Which satellite systems does the H520 use?
The H520E/520 use GPS and GLONASS
How does the obstacle detection work?
The OBS is a forward faced system based on ultrasonic technology. If an obstacle is detected, the H520 will stop in 4,5m distance. Objects must be at least the size of a thumb to be recognized. The system can also be switched off. When the OBS is on, the airspeed is limited to 25 km/h.
Can maps be stored on the remote control?
Yes you can, but there is limited storage space. Make sure that no map is bigger than 100MB. This would slow down the system unnecessarily. Spread the area over several small maps instead.
How often do I have to calibrate my H520?
Basically, whenever the copter is not flying stable in the air despite having GPS signal available or if the remote control in the DataPilot shows a red status code under "summary" or "sensors". Calibration after changing the location is not necessary.
I've already re-calibrated the H520, but the drone still flies quite unstable. What should I do?
When calibrating, make sure that there is no metal around the drone. This can affect the internal compass. Check the joystick movements in the RC Monitor. If the reactions to your movements are slow, you need to have your controller checked.
What happens if the radio connection to the H520 is lost?
There are two different radio links and two different types of connection losses. Communication lost – loss of image transmission (5.8GHz). The H520 remains fully controllable with all functions. As soon as the Copter regains a signal, the image transmission is restored.If the wireless connection is lost, the H520 automatically returns to the starting point. If the connection is restored during the return, RTL will not continue. The last known command will be executed.
What happens when the battery turns empty?
The H520 calculates depending on distance and battery voltage when emergency RTL is triggered. This ensures a safe return to the starting point. (From version 1.4.9)
Does the H520 have an emergency stop?
By lowering the stick "descend" and simultaneously pressing the red button three times, an emergency shutdown of the motors is triggered. Attention: Only use in an emergency case. A motor restart is not possible!
Are there any wearing parts? What is the maintenance interval?
The wear parts include: propellers, propeller mounts and batteries. Propellers and propeller mounts are made of plastic and can wear out. If the propeller still has play after locking it, the propeller and propeller mount must be replaced. After 200 flight hours, this should definitely happen to all 6 arms. Upset impurities (dust and sand, for example) can pollute the bearings of the motors or can settle in the mechanics of the landing gear. Often a careful blow with compressed air will help. If this does not help, the corresponding part must be exchanged. Therefore, please contact our technical service.
DRONES LATEST NEWS
LATEST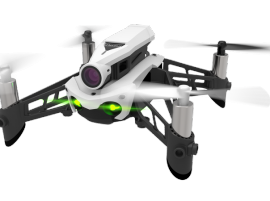 Parrot plans to stop selling Mambo and Swing drones
Parrot discontinued the Parrot Mambo Fly, Parrot Flypad, and Parrot Swing. According to Parrot, the company is exiting the toy and mini-drone industry, shifting its focus to prosumer and commercial drones.
Drone company Parrot, maker of the Anafi 4K folding drone, is reportedly leaving the mini-drone market. This week, Wirecutter confirmed that ...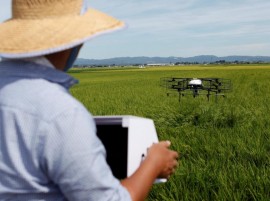 Drones offer high-tech help to Japan's aging farmers
The next generation farmhand in Japan's aging rural heartland may be a drone.
Nileworks Inc.'s automated drone flies over rice plants, spraying pesticide while diagnosing growth of individual rice stalks, during a demonstration in Tome, Miyagi prefecture Japan August 20, 2018.
For several months, developers and farmers in northeast Japan ...
Show more