DJI Mavic Air
Class

For video recording; Travelling and outdoors

Type

Quadcopter

Camera

Built-in camera, 12 megapixel

Control

Remote device, Smartphone/Tablet

Video recording resolution

4K: 3840×2160 24/25/30p
2.7K: 2720x1530 24/25/30/48/50/60p
FHD: 1920×1080 24/25/30/48/50/60/120p
HD: 1280×720 24/25/30/48/50/60/120p
Inheriting the advanced technology and exquisite craftmanship, the Mavic Air uses 3D fold design with smaller size and stronger performance. With 3-axis gimbal can shoot 4K super HD videos stably. The new One Key Spherical Panorama Shoot mode, Hand Gesture Control mode, and Auto Following mode, One Key Short Film modes enable you look for more photography creativity. Up to 21 minutes fly time, 3-direction detection system, and advanced aids system and one key return mode, you will get a safe and extraordinary fly experience. The Mavic Air brings you a new world!
EVERYTHING AT A GLANCE:
Image System:
● 3-axis Gimbal Camera: combined with the new control algorithm, greatly improves screen stability, achieving a control precision up to + / – 0.005-degree
● One Key Spherical Panorama Shoot: 8192 x 4096p resolution, supports vertical, wide-angle, 180-degree panorama photography, and VR
● 4K and 100Mbps HD Video: 4K/30fps video at 100Mbps, shoot HD videos with more details
● Slow Motion Video: takes videos at 1080p/120fps, capturing every detail clearly
● HDR Photos: solves the problem of over-exposure or too dark, shooting more natural and beautiful photos
Great Portability:
● Classic 3D folding design: the folded drone is as small as a mobile phone, you can hold it by only one hand
● Foldable Transmitter: with phone holder handle design, put the joysticks into the remote control, more convenient to use and carry
● Superb craftsmanship: the small body size still has powerful output, bringing you better flying experience
Smart Aid System, Easy to Fly:
● Smart Following Mode: more precise recognition system, up to 16 goals detection ability, following you closely whether you are running, jumping, or riding
● One Key Short Film: one short press, take your great short film effortlessly
● Hand Gesture Control: control the drone to takeoff, land, or move by hand gesture, making the photography more relax and fun
● Tap to Fly: plan the flight line more freely, supports forward, inverted, free direction, and coordinate mode
Safe Flight:
● FlightAutonomy 2.0: advanced VIO technology, and integrated 15 sensors for obstacle avoidance function, auto return and safer protection for camera
● Extraordinary Fly Performance: long 21 minutes flying time, powerful FOC power supply, enhanced dual-band Wi-Fi video transmitter, and it's support VR
Full description
The Mavic Air is  the most portable DJI drone to house a 3-axis mechanical gimbal, with its angular vibration range reduced to 0.005°. Set in a triangular formation, gimbal dampeners help create even steadier shots. It is incredibly compact  so you can take it everywhere.
In addition to Horizontal, Vertical, and 180° panoramas, the Mavic Air stitches 25 photos together in just eight seconds to create crystal-clear 32 MP Sphere panoramas.1 View them from an immersive perspective with DJI Goggles. The Mavic Air shoots video at an incredible 4K 30 fps, recording at 100 Mbps to capture every second with UHD quality. With support for recording 1080p 120 fps slow-motion video, the Mavic Air captures all your epic high-speed adventures. New HDR algorithms help you obtain the right exposure settings intelligently, according to lighting conditions. Overexposed or dark areas are processed for more natural transitions between highlights and shadows, while DSP acceleration allows for more efficient shooting. The Mavic Air's onboard camera integrates a 1/2.3"12-megapixel CMOS sensor and an f/2.8 lens with a35-mm equivalent focal length of 24 mm to shoot high-quality photos and videos.
In addition to a Micro SD card slot, 8 GB of internal storage let you save photos and videos directly tothe aircraft and export files through its USB 3.0Type-C port.
Expressing geometric precision, the Mavic Air's arms fold flush against its aerodynamic chassis. Magnesium alloy brackets reinforce the seven onboard cameras, rear vents dissipate heat efficiently, and the primary gimbal camera is recessed for better protection.
ActiveTrack can sense up to 16 selectable subjects simultaneously,2 letting you choose the right tracking subject. With higher tracking precision and broader scenario applications, ActiveTrack follows targets even when they're running, jumping, or cycling.
Choose from six different QuickShots — Rocket, Dronie, Circle, Helix, Asteroid, and Boomerang. All are just a tap away and will get you those epic selfie drone videos without needing to think about composing your shot. Share your new creations to social media through the DJI GO 4 app instantly.
Fun, simple, and intuitive, SmartCapture offers a new and interactive way of controlling the Mavic Air by hand. Launch and control the drone with hand gestures, then take photos or videos however you like.
If you want to focus on just your shot, select TapFly in DJI GO 4, which lets you fly wherever you tap on your mobile device screen. TapFly works in Forward, Backward, Free, and Coordinate modes, and you can adjust flight speed to suit all your aerial needs.
Using advanced VIO technology, the powerful sensor system in FlightAutonomy 2.0 consists of a primary gimbal camera, forward, backward, and downward dual-vision sensors, downward infrared sensing system, IMU redundancies, and a group of computing cores. Together, they collect and transmit information from the surrounding environment to the high-performance processor for more precise hovering and better flight performance. Advanced Pilot Assistance Systems (APAS) allow the aircraft to bypass obstacles in front of and behind it actively. Your grand adventures of discovery have never been so safe and easy.
Mavic Air Intelligent Flight Batteries are made with high-density lithium, offering a substantial flight time of up to 21 minutes3 for all your adventuring needs.
The dedicated remote controller uses a foldable, low-profile, ergonomic design to hold your smartphone for maximum convenience. Detachable control sticks store inside the remote controller to pack more comfortably on the go.
Feel the rush and thrill of first-class drone flight with top speeds of 68.4 kph4 in Sport mode5.
A new Wi-Fi video transmission system supports dual frequency bands of 2.4/5.8GHz6 and a 720p live view from up to 4 km away7.
Pair the Mavic Air with the DJI Goggles8 for FPV flight, and take to the skies for an immersive aerial adventure!
Notes:
1. The sky above the camera cannot be captured due to the gimbal's limited tilt range. Instead, the sky is automatically generated using a zenith patching algorithm.
2. Including people, cars, and watercraft.
3. Acquired at a constant speed of 25 kph, free of wind. Actual flight time may vary because of the environment and use of flight modes.
4. Acquired near sea level, free of wind.
5. Remote controller required. When in Sport mode, the aircraft cannot sense obstacles. Fly with caution.
6. Due to local policies, some countries do not support 5.8 GHz transmission.
7. Unobstructed, free of interference, when FCC compliant. The max transmission distance is 2 km when CE compliant.
8. A USB cable is required to connect the DJI Goggles to the Mavic Air.
For video recording; Travelling and outdoors
Built-in camera, 12 megapixel
Remote device, Smartphone/Tablet
Video recording resolution
4K: 3840×2160 24/25/30p
2.7K: 2720x1530 24/25/30/48/50/60p
FHD: 1920×1080 24/25/30/48/50/60/120p
HD: 1280×720 24/25/30/48/50/60/120p
2375 mAh, LiPo 3S, 11.55V
Micro SD. Max capacity: 128 GB. Class 10 or UHS-1 rating required
Folded: 168×83×49 mm (L×W×H), Unfolded: 168×184×64 mm (L×W×H)
Store
Shipment
Region
Product
Price
To store

DJI store

Fast delivery

Tracking service

Worldwide

DJI Mavic Air

849

Visit Store Buy Online

Gearbest

Tracking service

Worldwide

DJI Mavic Air

700

Visit Store Buy Online
1.How many ways are there to fly the Mavic Air and how do I change control methods?
There are three ways to fly the Mavic Air. You can use the dedicated remote controller, your smartphone, or both together. For the other two options, the Mavic Air connects to your smartphone via DJI GO 4.
2.How do I activate the Mavic Air?
Connect the Mavic Air with your mobile device and follow the instructions in DJI GO 4 to complete activation.
3.Is the Mavic Air waterproof?
No.
4.What Micro SD cards are recommended to use with the Mavic Air?
SD Card Capacity Class/UHS 16 GB Sandisk Extreme; Kingston SDHC-I SDCAC/16GB 32 GB Sandisk Extreme V30; Sandisk Extreme V30 A1; Sandisk Extreme V30 Pro A1 64 GB Sandisk Extreme V30 A1; Sandisk Extreme Pro V30 A1 128 GB Sandisk Extreme V30 A1;Sandisk Extreme Plus V30 A1
5.Can I connect my phone and DJI Goggles simultaneously to the Mavic Air remote controller and still see a real-time video feed?
No. Although the two USB ports on the remote controller support video signal, they are unable to output video signal simultaneously.
6.Can I connect my smartphone to the remote controller using an ordinary USB cable?
Yes. You can use an ordinary USB cable to connect your smartphone to the remote controller via the USB port at the bottom of the controller, but this may result in more discomfort when handling. Different cables come with the aircraft to meet your needs.
7.Where can I find the Mavic Air's Wi-Fi name and password?
For safety reasons, every Mavic Air has a unique Wi-Fi name and password. These are listed on the side of the aircraft body, in the battery compartment, and on the carrying case. (For iOS systems, iOS v9.0 or later is required.) Connect your smartphone to the aircraft's Wi-Fi by scanning the QR code with DJI GO 4 app for first-time use. Alternatively, you can manually type in the Wi-Fi name and password.
8.How can I change the Mavic Air's Wi-Fi name and password?
First, connect your smartphone to the aircraft via Wi-Fi. Next, enter the DJI GO 4 app and go to Wi-Fi Settings to change the Wi-Fi name and password. You can also change the Wi-Fi name and password with DJI Assistant 2 on a computer.
9.Is it possible to connect to the Mavic Air's Wi-Fi by using a third-party app to scan the QR code?
No. You can only scan the QR code to connect to the aircraft's Wi-Fi using DJI GO 4.
10.What is the maximum control range of the Mavic Air in SmartCapture?
The control range is 8.2–19.68 ft (2–6 m).
11.What Panorama modes does the Mavic Air support?
The Mavic Air supports the following panorama modes: Vertical: The camera automatically takes three vertical photos, stitching them into one panorama. Horizontal: The camera will take nine photos from different angles, stitching them into one panorama. 180°: The Mavic Air automatically rotates its body and gimbal shooting 21 pictures, stitching them together in DJI GO 4 for a breathtaking 180° panorama. Sphere: The Mavic Air automatically rotates its body and gimbal to shoot 25 photos, stitching them together for an eye-catching spherical panorama.
12.When flying the Mavic Air close to me in SmartCapture mode, why does the aircraft remain at eye level?
SmartCapture only allows the Mavic Air to fly at eye level when it's 9.8 feet (3 meters) or less away from you. This is to ensure better flight safety and control precision. You can gesture to fly higher or lower when it's farther away from you.
DRONES LATEST NEWS
LATEST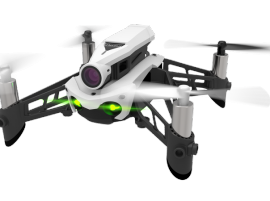 Parrot plans to stop selling Mambo and Swing drones
Parrot discontinued the Parrot Mambo Fly, Parrot Flypad, and Parrot Swing. According to Parrot, the company is exiting the toy and mini-drone industry, shifting its focus to prosumer and commercial drones.
Drone company Parrot, maker of the Anafi 4K folding drone, is reportedly leaving the mini-drone market. This week, Wirecutter confirmed that ...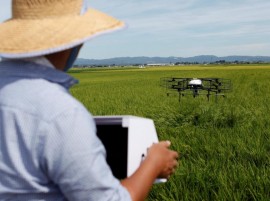 Drones offer high-tech help to Japan's aging farmers
The next generation farmhand in Japan's aging rural heartland may be a drone.
Nileworks Inc.'s automated drone flies over rice plants, spraying pesticide while diagnosing growth of individual rice stalks, during a demonstration in Tome, Miyagi prefecture Japan August 20, 2018.
For several months, developers and farmers in northeast Japan ...
Show more