DJI Spark
Class

For video recording; Travelling and outdoors

Camera

Built-in camera, 12 megapixel

Control

Remote device, Smartphone/Table

Flight time

Up to 16 minutes (no wind at a consistent 12.4 mph (20 kph)

Control range

2 km
EVERYTHING AT A GLANCE
Meet Spark, a mini drone that features all of DJI's signature technologies, allowing you to seize the moment whenever you feel inspired. With intelligent flight control options, a mechanical gimbal, and a camera with incredible image quality, Spark empowers you to push your creative boundaries.
QUICK LAUNCH
With FaceAware, Spark lifts off from your hand by recognizing your face.1 It takes off and hovers in place within seconds of powering on
SIMPLE CONTROL
Take amazing aerial photos using just hand gestures, without a remote controller or mobile device.
CREATE WITH EASE
Intelligent Flight Modes and intuitive controls help you create cinematic aerial videos with just a few taps.
EDIT AND SHARE
The DJI GO 4 app features automatic editing templates and an array of filters. Quickly edit videos and share them straight to social media.
Full description
Meet Spark, a mini drone that features all of DJI's signature technologies, allowing you to seize the moment whenever you feel inspired. With intelligent flight control options, a mechanical gimbal, and a camera with incredible image quality, Spark empowers you to push your creative boundaries.
Spark's 2-axis mechanical gimbal and UltraSmooth technology dramatically reduce shake and rolling shutter effect, keeping shots stable and detailed.
All Spark images are consistently sharp and vivid with very little color aberration and distortion. Spark's camera has an f/2.6 wide-angle lens with a 25 mm equivalent focal length. Five elements are arranged into a single group that fit into a compressed frame.

Small and compact, Spark's camera features a 1/2.3 inch CMOS sensor, allowing you to shoot stabilized video at 1080p and stills at 12 MP. Larger pixels mean Spark is acutely sensitive to light and records colors precisely.

Spark adopts all previous DJI drone shooting modes while adding two new modes: Pano and ShallowFocus.
With its aerodynamic, lightweight, and slick design, Spark soars through the air with minimal wind resistance. The gimbal and camera are flush with the aircraft, significantly increasing stability. Powerful propulsion offers steady flight in strong winds at up to 31 mph (50 kph) in Sport Mode.2 And an advanced flight control system means flying Spark is fun and intuitive.
Innovative HD Wi-Fi technology allows for 720p real-time video transmission from up to 1.2 mi (2 km) away.3
Even with all of Spark's intelligent features, flight time isn't compromised. Fly for up to 16 minutes with a fully-charged battery, capturing more footage.4
Switch to Sport Mode and unleash Spark's speed potential. Sport Mode sets the gimbal mode to FPV by default, so the camera moves with you as you fly. For an upgraded FPV experience, pick up a pair of DJI Goggles and see a different world.5
Spark's FlightAutonomy system includes the main camera, vision positioning system (VPS), 3D sensing system, dual-band GPS, high-precision inertial measurement unit, and 24 powerful computing cores. This allows Spark to hover accurately anywhere with VPS assistance at up to 98 ft (30 m), sense obstacles from up to 16 ft (5 m) away, and land safely.
Like all recent DJI drones, Spark can return to its home point automatically with sufficient GPS signal. If the battery gets too low, connection is lost, or you hit the Return to Home (RTH) button, Spark flies back to the preset home point while sensing obstacles in its path. Spark's downward-facing camera captures images of the area surrounding the home point and references these images during RTH for a safe landing.
DJI's GEO system lets you know where drone flights may raise safety or security concerns, such as near airports or stadiums. This provides the information needed to fly Spark safely and responsibly.
Spark uses a high energy density LiPo battery for optimal performance. 12 intelligent protection functions help deliver safe flight. Additionally, Spark's battery estimates remaining flight time, letting you know when to land in real time.
Note:
1. Propeller guards are recommended when using these functions.
2. Remote controller (optional accessory) required.
3. Unobstructed, free of interference, with remote controller when FCC compliant.
4. Estimated flight time is based on flying in windless conditions at a constant speed of 12.4 mph (20 kph). Actual flight times may vary depending on your environment.
5. Remote controller required; DJI Goggles compatibility coming soon.
VIDEOS WITH A TAP
Let Spark take professional shots for you. QuickShots help you shoot amazing footage with cinematic composition

FLIGHT AT YOUR FINGERTIPS
In TapFly mode, just envision your shot and Spark captures it for you. Tap your phone screen and Spark, using vision technology, flies in the direction of your tap or exactly where you tapped while actively sensing obstacles. Capture shot after shot with just your fingertips.
STAY ON TARGET
With ActiveTrack, Spark automatically recognizes objects of different shapes and sizes then tracks them according to what they are and how fast they move. This makes tracking much easier and more reliable.
YOUR MOMENTS, CAPTURED
Deep learning gesture recognition allows you to take selfies with simple hand motions. With PalmControl mode, control Spark's movement by hand.
For video recording; Travelling and outdoors
Built-in camera, 12 megapixel
Remote device, Smartphone/Table
Up to 16 minutes (no wind at a consistent 12.4 mph (20 kph)
Video recording resolution
3968×2976, 1440×1080 with ShallowFocus, 2300×1280 with Pano (horizontal), 960×1280 with Pano (vertical)
Micro SD. Max capacity: 64 GB UHS-I Micro SDXC
31 mph (50 kph) in Sport Mode without wind
1480 mAh, LiPo 3S, 11.4 V
1. What are the main differences between Spark and the Mavic Pro?
In addition to being lighter and smaller than the Mavic Pro, Spark was designed with new drone users in mind. Advanced gesture controls allow users to launch, direct, and land Spark with just their hands. For more intuitive on-screen control, Spark's TapFly Mode now includes Coordinate, letting you tap an exact location on screen for Spark to fly towards. In addition, QuickShot Mode allows users to fly along four preset flight paths while recording short videos for cinema-quality footage. Spark gives users professional control without hassle. In contrast, the Mavic Pro features a more powerful camera capable of shooting 4K video (as opposed to Spark's 1080p video), longer flight times, and an OcuSync transmission system suitable for long-distance aerial photography.
2. How do I control Spark?
Control Spark with your mobile device by downloading the DJI GO 4 app or using the remote controller.
3. How do I activate Spark?
There are two ways to activate Spark: - Connect Spark with your mobile device and follow the instructions in DJI GO 4 to complete activation. - Tap the top right icon in DJI GO 4's main page, choose Scan QR Code, and use your mobile device's camera to scan the QR code in the aircraft's battery compartment. Follow the instructions in the app to complete activation.
4. What are the recommended Micro SD cards for Spark?
Sandisk 16 GB UHS-1 Micro SDHC Sandisk 32 GB UHS-1 Micro SDHC Sandisk 64 GB UHS-1 Micro SDXC Kingston 16 GB UHS-1 Micro SDHC Kingston 32 GB UHS-1 Micro SDHC Kingston 64 GB UHS-1 Micro SDXC Samsung 16 GB UHS-I Micro SDHC Samsung 32 GB UHS-I Micro SDHC Samsung 64 GB UHS-I Micro SDXC *It's not recommend to use the Patriot EPPRO 64GB MicroSDXC UHS-3.
5. Is Spark waterproof?
No. It is recommended to avoid flying Spark in rain, fog, snow, or wet weather. Also avoid landing in or taking off from puddles, as the chassis is close to the ground.
6. What new functions does Spark's camera have?
Spark supports ShallowFocus and Pano modes, which includes Horizontal and Vertical modes.
7. What is ShallowFocus?
ShallowFocus creates photos with a shallow depth of field with its 3D vision technology.
8. Which Pano modes are available?
Vertical Mode: The camera will capture three photos vertically, then combine them to make a vertical panorama. Horizontal Mode: The camera will take nine photos from different angles vertically and horizontally, then combine them to make a horizontal panorama.
9. Can I capture photos or record video without a Micro SD card?
Yes, you can. The aircraft will store photos and videos on your mobile device. In this instance, the images captured are actually from the live stream with a photo resolution of 1024×768 and video resolution of 1280×720.
10. What is the maximum distance and speed at which Spark can sense obstacles?
Spark will automatically avoid obstacles up to 16 ft (5 m) in front of it. The maximum speed at which Spark is able to sense obstacles is 3 m/s.
11. What new Intelligent Flight Modes does Spark include?
Spark is the first DJI drone to feature new TapFly submodes, Coordinate and Direction. In QuickShot mode, Spark takes professional shots for you with Rocket, Dronie, Circle, and Helix. Spark's Gesture Mode also includes a new set of advanced gesture recognition capabilities, including PalmControl, Follow, Beckon, and PalmLand.
12. What mobile device sizes fit inside Spark's remote controller?
Spark's remote controller fits mobile devices 6.5‑8.5 mm thick and up to 160 mm long, without a phone case. Mobile devices larger than this do not fit the remote controller's device holder.
13. How do I update the remote controller firmware?
The remote controller firmware can be updated in DJI GO 4.
14. How long does it take to fully charge the remote controller? How long is the battery life?
It takes 2 hours to fully charge the remote controller for up to 2.5 hours of operation.
DRONES LATEST NEWS
LATEST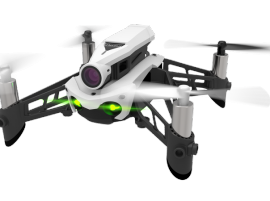 Parrot plans to stop selling Mambo and Swing drones
Parrot discontinued the Parrot Mambo Fly, Parrot Flypad, and Parrot Swing. According to Parrot, the company is exiting the toy and mini-drone industry, shifting its focus to prosumer and commercial drones.
Drone company Parrot, maker of the Anafi 4K folding drone, is reportedly leaving the mini-drone market. This week, Wirecutter confirmed that ...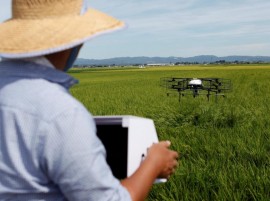 Drones offer high-tech help to Japan's aging farmers
The next generation farmhand in Japan's aging rural heartland may be a drone.
Nileworks Inc.'s automated drone flies over rice plants, spraying pesticide while diagnosing growth of individual rice stalks, during a demonstration in Tome, Miyagi prefecture Japan August 20, 2018.
For several months, developers and farmers in northeast Japan ...
Show more