DJI Mavic Pro
Class

For video recording; Travelling and outdoors

Camera

Built-in camera, 12 megapixel

Control

Remote device

Flight time

Up to 27 minutes
Standard flight time: 21 min

Control range

7 km
Fly for miles. From your pocket. Inside the Mavic's pocket-sized remote controller is DJI's brand new OcuSync transmission technology, with a range of 4.3mi (7km) and Full HD 1080p video streaming.
No bumps and scrapes. When you know what's in front of you, you won't bump into it. The same is true of the Mavic. Using Flight Autonomy it can see obstacles as far away as 49ft (15m) in front.
Absolute Precision. Flight Autonomy technology means the Mavic can hover precisely in more environments, and automatically land almost exactly where you took off.

Stay flying longer. Why fly for 10 or 15 minutes when you can fly for up to 27? With the Mavic you can. Finely tuned control
Use every single pixel. The Mavic is the only drone of its size to carry an integrated high-precision 3-axis mechanical camera stabilization system.
Full description
The DJI Mavic Pro is a small yet powerful drone that turns the sky into your creative canvas easily and without worry, helping you make every moment an aerial moment. Its compact size hides a high degree of complexity that makes it one of DJI's most sophisticated flying cameras ever. 24 high-performance computing cores, an all-new transmission system with a 4.3mi (7km) *range, 5 vision sensors, and a 4K camera stabilized by a 3-axis mechanical gimbal, are at your command with just a push of your thumb or a tap of your finger. *Unobstructed, free of interference, when FCC compliant.
Fly further
The Mavic uses DJI's newly developed OcuSync transmission system. Part of the Lightbridge family, OcuSync performs far better than Wi-Fi transmission at all transmission speeds. OcuSync also uses more effective digital compression and channel transmission technologies, allowing it to transmit HD video reliably even in environments with strong radio interference. Compared to traditional analog transmission, OcuSync can transmit video at 720p and 1080p – equivalent to a 4-10 times better quality, without a color cast, static interference, flickering or other problems associated with analog transmission. Even when using the same amount of radio transmission power, OcuSync transmits further than analog at 4.1mi (7km)*.
OcuSync goes even further than optimizing the communication mechanism and parameters of aerial imaging. There are several video transmission systems on the market claiming to offer video transmission with zero latency. However, it should be noted that the physical layer of those transmission systems is too simple to adapt to changes in the environment. When affected by signal interference, the image quality of the video being transmitted will fall sharply. This means these systems are not suitable for far field transmissions and transmissions in interference-heavy environments. Also, because these video transmission systems are not integrated into the whole system, latency will immediately start to rise up from 0 when working with devices including cameras and displays. OcuSync is able to strike a perfect balance between latency and receptivity, reducing latency to 5ms for remote controller transmission commands, 10ms for video data and 130ms for videos. More than low enough to ensure that Mavic is able to fly reliably despite interference. OcuSync's integration with video processing, coding, and signal transmission systems also make it more cost effective.
Before taking off, OcuSync will automatically scan the environment and choose the frequency band with the lowest interference, ensuring more stable video transmission. During a flight, it sends key flight parameters back for viewing in the DJI GO 4 app and supports a maximum download speed of 40Mb/s for photos and videos.
There are many Wi-Fi based transmission systems available on market. However, the experience of using OcuSync is completely different. As Wi-Fi was primarily designed to connect electronic devices locally, it works best when connecting to nearby devices. As it was designed for short range, Wi-Fi systems use low cost transmitters that suffer from weak data links. This means that a Wi-Fi cannot detect weak signals or signals with interference. OcuSync however, uses many cutting-edge communication industry technologies to outperform Wi-Fi in terms of sensitivity, anti-interference, and anti-fading, as well as when flying at high speed. It also supports simultaneous connection to multiple devices.
In use, this is the difference between smooth or interrupted transmission, short or long flight range, and short or long recovery times after interference or GPS signal loss. Additionally, since Wi-Fi uses a traditional protocol stack, it takes longer – from several seconds to tens of seconds – to get connected and to re-connect after signal loss But OcuSync uses Cross-Layer Protocol Design, it can establish or re-establish links within one second.
As well as point-to-point video transmission, OcuSync also supports wireless connections to multiple devices. For example, you can connect the DJI Goggles, remote controller, and Mavic wirelessly to OcuSync all at the same time. You can also add an additional remote so that you can control the Mavic with two remotes or share First Person View (FPV) videos.
For video recording; Travelling and outdoors
Built-in camera, 12 megapixel
Up to 27 minutes
Standard flight time: 21 min
Video recording resolution
C4K: 4096×2160 24p
4K: 3840×2160 24/25/30p
2.7K: 2720x1530 24/25/30p
FHD: 1920×1080 24/25/30/48/50/60/96p
HD: 1280×720 24/25/30/48/50/60/120p
Micro SD. Max capacity: 128 GB. Class 10 or UHS-1 rating required
Store
Shipment
Region
Product
Price
To store

Amazon

Fast delivery

Tracking service

Worldwide

DJI Mavic Pro

999

Visit Store Buy Online
1. What's the main difference between Mavic and Phantom 4?
The Mavic is smaller, lighter, and easier to carry with you thanks to its foldable design. Its new OcuSync transmission system has a longer transmission range and 1080p resolution. Due to its larger size, the Phantom 4 has a higher maximum speed and can withstand stronger winds.
2. Does the folding mechanism wear out and will it need replacing?
The folding mechanism has been tested to last at least 5000 folds. It is unlikely that it will wear out during the Mavic's lifetime.
3. What's difference of camera between Mavic and Phantom 4?
The two cameras have the same features, but the Mavic's camera has a smaller FOV, is able to focus as closely as 0.5m and can be rotated 90° for portrait shots and selfies. The Phantom 4's larger FOV makes it better suited for landscape imaging.
DRONES LATEST NEWS
LATEST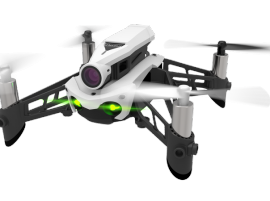 Parrot plans to stop selling Mambo and Swing drones
Parrot discontinued the Parrot Mambo Fly, Parrot Flypad, and Parrot Swing. According to Parrot, the company is exiting the toy and mini-drone industry, shifting its focus to prosumer and commercial drones.
Drone company Parrot, maker of the Anafi 4K folding drone, is reportedly leaving the mini-drone market. This week, Wirecutter confirmed that ...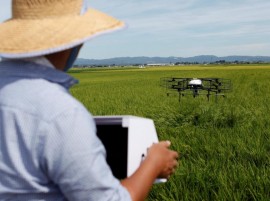 Drones offer high-tech help to Japan's aging farmers
The next generation farmhand in Japan's aging rural heartland may be a drone.
Nileworks Inc.'s automated drone flies over rice plants, spraying pesticide while diagnosing growth of individual rice stalks, during a demonstration in Tome, Miyagi prefecture Japan August 20, 2018.
For several months, developers and farmers in northeast Japan ...
Show more