FLIR Black Hornet PRS
Class

Military

Type

Helicopter

Camera

Day Imager: 2 EO Cameras;
Night Imager: Fused thermal and EO with user selectable LED light

Control

Remote Controller

Video recording resolution

EO Video: 640x480;
EO Snapshot: 1600x1200;
Thermal Imaging Video: 160x120;
Thermal Imaging Snapshot: 160x120
FLIR Black Hornet PRS Key Features

● SQUAD-LEVEL IMMEDIATE COVERT SITUATIONAL AWARENESS
Save lives and minimize collateral damage. Detect and identify threats day and night without being detected. Increase speed and expand maneuver options.
● COVERT AIRBORNE SENSOR
Extraordinarily low visual and audible signatures and a light, small profile allow covert operation and increased security for dismounted soldiers.
● BEYOND VISUAL LINE-OF-SIGHT CAPABILITY
Expand visual range in complex and urban environments. Rapidly engage targets beyond visual line-of-sight, and conduct real-time weapon effectiveness assessment.
Full description
Source: https://www.flir.com/products/black-hornet-prs/
Day Imager: 2 EO Cameras;
Night Imager: Fused thermal and EO with user selectable LED light
Video recording resolution
EO Video: 640x480;
EO Snapshot: 1600x1200;
Thermal Imaging Video: 160x120;
Thermal Imaging Snapshot: 160x120
Rotor diameter: 123 mm (4.8 in);
Total length: 168 mm (6.6 in)
Altitude Hold Mode; Automatic Landing Technology; GPS; Return to Home Technology; Position Hold Mode
| Store | | Shipment | Region | Product | Price | To store |
| --- | --- | --- | --- | --- | --- | --- |
| | FLIR Black Hornet PRS | Warning: Invalid argument supplied for foreach() in /var/www/fastuser/data/www/droneadvisor.tech/wp-content/themes/drones/single.php on line 176 | | FLIR Black Hornet PRS | For More Information contact surveillance_sales@flir.com | Visit Store Buy Online |
DRONES LATEST NEWS
LATEST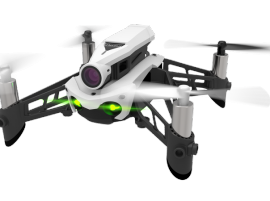 Parrot plans to stop selling Mambo and Swing drones
Parrot discontinued the Parrot Mambo Fly, Parrot Flypad, and Parrot Swing. According to Parrot, the company is exiting the toy and mini-drone industry, shifting its focus to prosumer and commercial drones.
Drone company Parrot, maker of the Anafi 4K folding drone, is reportedly leaving the mini-drone market. This week, Wirecutter confirmed that ...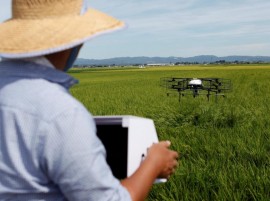 Drones offer high-tech help to Japan's aging farmers
The next generation farmhand in Japan's aging rural heartland may be a drone.
Nileworks Inc.'s automated drone flies over rice plants, spraying pesticide while diagnosing growth of individual rice stalks, during a demonstration in Tome, Miyagi prefecture Japan August 20, 2018.
For several months, developers and farmers in northeast Japan ...
Show more