Holy Stone HS720
Class

Travelling and outdoors; For video recording

Type

Quadcopter

Camera

4K UHD Camera with Image Stabilization; Gimbal; FPV

Control

Remote Controller

Video recording resolution

Ultra HD 3840×2160 (4K)
KEY FEATURES
● 4K UHD Camera with Image Stabilization: The optimized full HD Camera built with Shock Absorption holder ensures shooting 3840 x 2160 high-resolution images and videos without camera vibration. 5GHz FPV transmission and 90°adjustable lens enables you to see the word from different angle.
● GPS Assisted Intelligent Flight: Never lose the drone. It returns automatically whenever battery is low, signal is lost or you press one key return. Also, it is so smart to fly at your will, following you automatically, flying along a path you set, or fly around a point in circles. You may focus on your photography and creation.
● Configuration Upgrade: The 2 intelligent batteries works for 26 Mins/per battery for each charge; 52 Mins in total with 2 batteries; the long-life Brushless Motors have lower power consumption and give you a quieter flight; the foldable design and well-fitted carrying case make it easy to take the drone outdoor. DON'T use batteries from other brands, which may cause product issue or safety concern! PRODUCT SUPPORT AVAILABLE!
● Simple Operation: Equipped Multi Sensors guarantee hovering with great stability and high quality pics taken under different flying environment; Optical Flow Positioning makes great effect when GPS signal is lost or weak. Functions, like one key start/stop, emergency stop, altitude hold and electric fence, keep it simple to control for even beginners.
● Considerate Controller: The control range of 2.4GHz transmitter reaches to 3000 feet high range; battery level and GPS signal shown on the LED screen; a button to turn on or off the drone light is added; right hand throttle mode is available for left-hander. Remember to remove the scratch-proof film from the controller and the camera before use.
Full description
Sources:
https://www.holystone.com/en/Drones/Premium/HS720GPSDroneWith4KCamera.html
www.amazon.com/gp/product/B07V3CLLCV/ref=as_li_tl?ie=UTF8&camp=1789&creative=9325&creativeASIN=B07V3CLLCV&linkCode=as2&tag=hs0cd-20&linkId=d579db1d9242780f556e24ca6c89fac8
Travelling and outdoors; For video recording
4K UHD Camera with Image Stabilization; Gimbal; FPV
Video recording resolution
173*104*56mm(Folded)
336*370*56mm(Unfolded)
Altitude Hold Mode; Automatic Landing Technology; Automatic Precision Landing; FPV; Follow Me Technology; GPS; Gimbal; Position Hold Mode; Return to Home Technology; SD card support; Electronic Image Stabilization
1*Drone and Transmitter
2*Drone Batteries
4*Extra Propellers
1*USB Charging Cable
1*Charger Hub
1*Screwdriver
1*Instructions for Use
1*Carrying Bag
Store
Shipment
Region
Product
Price
To store

Amazon

Fast delivery

Tracking service

Worldwide

Holy Stone HS720

$279.99

Visit Store Buy Online

Walmart

Fast delivery

United States

Holy Stone HS720

$279.99

Visit Store Buy Online

Amazon UK

Fast delivery

Tracking service

Europe

Holy Stone HS720

£249.99

Visit Store Buy Online
DRONES LATEST NEWS
LATEST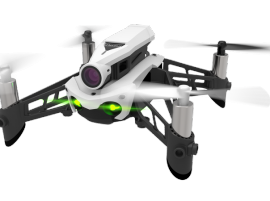 Parrot plans to stop selling Mambo and Swing drones
Parrot discontinued the Parrot Mambo Fly, Parrot Flypad, and Parrot Swing. According to Parrot, the company is exiting the toy and mini-drone industry, shifting its focus to prosumer and commercial drones.
Drone company Parrot, maker of the Anafi 4K folding drone, is reportedly leaving the mini-drone market. This week, Wirecutter confirmed that ...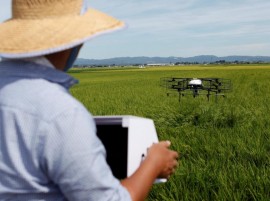 Drones offer high-tech help to Japan's aging farmers
The next generation farmhand in Japan's aging rural heartland may be a drone.
Nileworks Inc.'s automated drone flies over rice plants, spraying pesticide while diagnosing growth of individual rice stalks, during a demonstration in Tome, Miyagi prefecture Japan August 20, 2018.
For several months, developers and farmers in northeast Japan ...
Show more