Xiaomi MiTu Mini Drone
Class

For kids; For video recording

Type

Quadcopter

Camera

Built-in camera, 1.92 Megapixels

Control

Remote device; Smartphone

Video recording resolution

720p: 1280 x 720
Key features:
● 720P HD Camera Built-in is tuned to capture nice pictures and videos from the sky.
● Precision Hover – The new indoor altitude hold feature enables the drone to fly steadily and smoothly in the indoor environment
● 360 Degree Air Tumbling – You can get 360-degrees Flip, continuous roll for perfect action and wonderful performance.
● Multi-machine Infrared Battle – The MITU RC Drone has a multi-machine infrared battle function, enjoy yourself with your friend.
● Headless Mode –  No need to adjust the position of aircraft before flying.
Full description
For kids; For video recording
Built-in camera, 1.92 Megapixels
Remote device; Smartphone
Video recording resolution
Auxiliary Positioning Devices: Ultrasonic + Visual Sensor
Store
Shipment
Region
Product
Price
To store

Aliexpress

Tracking service

All world

Xiaomi MiTu Mini Drone

$79.19

Visit Store Buy Online

Amazon

Fast delivery

Tracking service

Worldwide

Xiaomi MiTu Mini Drone

$70

Visit Store Buy Online

Gearbest

Tracking service

Worldwide

Xiaomi MiTu Mini Drone

$62.99

Visit Store Buy Online

Banggood

Fast delivery

Tracking service

Courier

Worldwide

Xiaomi MiTu Mini Drone

$69.99

Visit Store Buy Online

Geekbuying

DHL

Fast delivery

Tracking service

Worldwide

Xiaomi MiTu Mini Drone

$79

Visit Store Buy Online
What kind of persons is MiDroneMini suitable for?
The toy-grade four-axle aerial MiDroneMini is suitable for middle school students and teenagers who desire to have flying toys.
During travelling, will MiDroneMini be allowed to taken on the train or plane?
MiDroneMini uses a lithium polymer battery with a battery capacity of 920mAh. For more information, please visit the FAA to inquire about lithium battery transportation regulations
Can MiDroneMini fly in rain?
The body of MiDroneMini adopts the semi-closed design, which cannot resist rain and water. Please don't fly it in rain, fog or near waterfall and water flow, preventing damage on the internal circuit arising out of ingress of water, causing machine malfunction.
What's the function of MiDroneMini's protection frame?
The aircraft's protection frame can prevent damage on the propeller and surrounding object during flight. Beginners are recommended to use the protection frame to alleviate propeller damage before they are proficient in flying skills. Note: Protection capabilities of the protection frame are very limited. Please don't hit the objective or fly it in narrow space and crowds on purpose.
What's MiDroneMiniApp's requirement for cell phone?
Android 4.4 and above (including Android 4.4), iOS 9.0 and above.
DRONES LATEST NEWS
LATEST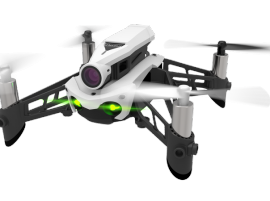 Parrot plans to stop selling Mambo and Swing drones
Parrot discontinued the Parrot Mambo Fly, Parrot Flypad, and Parrot Swing. According to Parrot, the company is exiting the toy and mini-drone industry, shifting its focus to prosumer and commercial drones.
Drone company Parrot, maker of the Anafi 4K folding drone, is reportedly leaving the mini-drone market. This week, Wirecutter confirmed that ...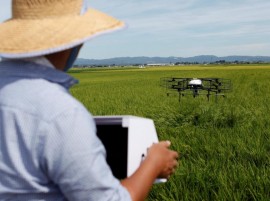 Drones offer high-tech help to Japan's aging farmers
The next generation farmhand in Japan's aging rural heartland may be a drone.
Nileworks Inc.'s automated drone flies over rice plants, spraying pesticide while diagnosing growth of individual rice stalks, during a demonstration in Tome, Miyagi prefecture Japan August 20, 2018.
For several months, developers and farmers in northeast Japan ...
Show more