PARROT MAMBO FPV
Type

Quadcopter

Class

Travelling and outdoors; For video recording

Control

Remote device

Battery

660mAh

Camera

60 FPS
Start small by going big! Discover the universe of drones by immersing yourself into an FPV flight experience like no other! This tiny drone can fit in the palm of your hand, but make no mistake it packs a punch! With the Parrot Mambo FPV, break all boundaries and enjoy an immersive experience that only cutting edge technology can bring you. The FPV camera and Parrot Cockpitglasses 2 guarantee to plunge you into the unprecedented world of racing. Take on the other challengers and become a genuine FPV racing pilot.
● Parrot Mambo is easy and safe to pilot
● Battery lasting up to 10 minutes
● Includes Parrot Cockpit glasses (FPV goggles) for an immersive flight experience
● Includes Parrot Fly pad for ultra-precise piloting
● Play with your friends to turn the sky into a racing track
● The Free Flight Mini app expands your options for playing and experiences
Full description
FEEL THE ADRENALIN OF A DRONE RACE!
Parrot Mambo FPV can be flown in complete immersion using its new accessories. Connect the FPV camera to the minidrone using Smart Block technology to record and transmit content in HD. Slip on the Parrot Cockpitglasses 2 for a fully immersive view from your drone guaranteeing you new sensations of speed.
THE PERFECT FPV DRONE TO GET STARTED
Become an FPV drone racing pilot thanks to three new flying modes. Start with the Easy mode, which keeps your drone in the air even if you let go of the controls. Then switch to the Drift mode, which turns the horizontal stabilization off and lets you to make tight turns. Finally, give the Racing mode a try to have complete control of the drone without any stabilization assistance. The possibilities are endless!
FLY EVEN FARTHER AND LONGER
It has never been so easy to escape thanks to the Parrot Flypad which lets you fly your Parrot Mambo over a distance of up to 100 m. Fly not only farther, but also longer with the new high-performance Power Battery lasting up to 10 minutes. Don't miss a single race!
JOIN THE MAMBO RACING CLUB!
Is your equipment ready? Have you got your Parrot Cockpitglasses 2 FPV glasses on, Parrot Mambo FPV ready to take off and the Parrot Flypad high-precision controller in your hands? You are now officially part of the #MamboRacingClub! Take on the challenges we suggest, organize races with other pilots and share videos and photos of your flights on social networks: show everyone that you're the best Parrot Mambo FPV pilot.
Travelling and outdoors; For video recording
Video recording resolution
Streaming and Recording HD 720p 30 FPS
100 ft / 30 m with smartphone
1 Parrot Mambo; 1 FPV Camera; 1 Parrot Cockpitglasses 2; 1 Parrot Flypad; 1 Power Battery; 4 Hulls; 1 USB Cable; 1 User Guide
Store
Shipment
Region
Product
Price
To store

Amazon

Fast delivery

Tracking service

Worldwide

PARROT MAMBO FPV

199

Visit Store Buy Online
Why doesn't my smartphone fit in Parrot Flypad?
Check the dimensions of your phone: the latter must not be wider than 78 mm or thicker than 9.8 mm.
Why doesn't the Grabber close?
If the Grabber does not close, check the mechanism and make sure nothing is blocking it. As a last resort, check the connection of the Grabber to Parrot Mambo FPV: Make sure that the indicator light of the brick is green.
Why are the BBs jamming in the magazine of the Cannon?
If the BBs get stuck in the magazine of the Cannon, inspect the magazine and, most importantly, do not load it with more than 6 BBs. Also, inspect the firing mechanism and make sure that nothing is blocking it.
Why is the Cannon not shooting the BBs?
Make sure that the indicator light on the brick is green and check for that there is nothing blocking the mechanism.
DRONES LATEST NEWS
LATEST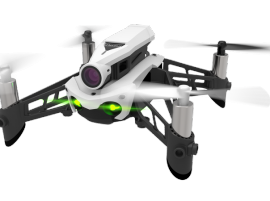 Parrot plans to stop selling Mambo and Swing drones
Parrot discontinued the Parrot Mambo Fly, Parrot Flypad, and Parrot Swing. According to Parrot, the company is exiting the toy and mini-drone industry, shifting its focus to prosumer and commercial drones.
Drone company Parrot, maker of the Anafi 4K folding drone, is reportedly leaving the mini-drone market. This week, Wirecutter confirmed that ...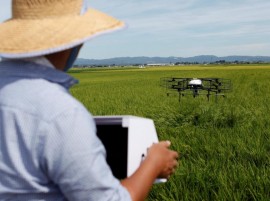 Drones offer high-tech help to Japan's aging farmers
The next generation farmhand in Japan's aging rural heartland may be a drone.
Nileworks Inc.'s automated drone flies over rice plants, spraying pesticide while diagnosing growth of individual rice stalks, during a demonstration in Tome, Miyagi prefecture Japan August 20, 2018.
For several months, developers and farmers in northeast Japan ...
Show more