PARROT ANAFI EXTENDED
Class

Travelling and outdoors; For video recording

Type

Quadcopter

Camera

Built-in camera, 16 megapixel, CMOS

Control

Remote device

Video recording resolution

4K Cinema 4096x2160 24fps
The flying 4K HDR camera complete with accessories that you can take everywhere on the go
ANAFI, the flying 4K HDR camera comes complete with a travel kit that includes:
● ANAFI, the flying 4K HDR camera
● Parrot Skycontroller 3, the long-range controller
● 2 additional smart batteries + USB type C cable, giving you a flight time of 1 hour and 15 minutes
● An ultra-compact travel bag created especially for ANAFI Extended
● 4 foldable propeller blades
● Two-month membership to Adobe Creative Cloud for photos or Adobe Premiere Pro CC to make your shots that much more striking
Show off your creative flair with a 21MP camera, unique shots of 180°, a 3x zoom and an impressive Hyperlapse mode. Make your photos stand out with Adobe Creative Cloud.
Full description
EVERYTHING YOU NEED IN A TRAVEL CASE
ANAFI comes complete with an ultra-compact travel bag tailor-made for ANAFI Extended. The bag can contain the Parrot quadcopter, Parrot Skycontroller 3 and two additional smart batteries, providing 1 hour and 15 minutes of flight time.
Thanks to its on-the-go charging system, you can charge your batteries using a power bank (not included).
SHOW OFF YOUR CREATIVE FLAIR
ANAFI is an ultra-compact flying camera with professional capacities, created to make sure you stand out from the crowd.
Versatile with extreme precision, ANAFI and its lossless zoom lets you capture spectacular footage in all lighting conditions.
SIMPLY STUNNING IMAGES
Get it right first time thanks to the powerful artificial intelligence and ergonomics of the FreeFlight 6 application.
With this application, drone pilots of all levels can easily shoot footage from the sky.
FreeFlight 6 includes the new Panorama modes including 360° Sphere, 180° panorama and Little-planet.
ONE OF THE QUIETEST AND STURDIEST DRONES ON THE MARKET
Capture memorable moments even when you're out enjoying your most extreme adventures.
ANAFI was made to resist difficult weather conditions thanks to its carbon reinforced frame and athermic camera that resists temperatures from -10° to +40°. The powerful motors can resist winds of up to 33mph.
All that encased in one of the quietest drones available on the market.
Travelling and outdoors; For video recording
Built-in camera, 16 megapixel, CMOS
Video recording resolution
4K Cinema 4096x2160 24fps
1 Parrot Anafi Drone; 2 additional Smart Battery; 1 Parrot Skycontroller 3; 1 compact travel bag 16 GB Micro-SD card + SD adpter; 3 USB-A to USB-C cable 8 additional ultra-quiet propeller blades; 1 Mounting tool
Store
Shipment
Region
Product
Price
To store

Parrot Official Store

Fast delivery

Tracking service

Worldwide

PARROT ANAFI EXTENDED

€899

Visit Store Buy Online

Amazon

Fast delivery

Tracking service

Worldwide

PARROT ANAFI EXTENDED

$899

Visit Store Buy Online

Amazon UK

Fast delivery

Tracking service

Europe

PARROT ANAFI EXTENDED

£854

Visit Store Buy Online

Fnac

Fast delivery

Tracking service

Europe

PARROT ANAFI EXTENDED

€899.99

Visit Store Buy Online

Best Buy

UPS

FedEx

Fast delivery

Tracking service

Courier

USA, Canada, Mexico

PARROT ANAFI EXTENDED

$799.99

Visit Store Buy Online
Resetting ANAFI
Have you modified your ANAFI's Wi-Fi password and forgotten it? This is one example where resetting ANAFI can be helpful to you: it will not bring back the drone to a factory state, but will restore the latest update – so you will have to check your parameters again. Here is the ANAFI reset procedure. 1. Power ANAFI on. 2. Press the power button and keep it pressed: after approximately 8 seconds, the smart battery's LEDs turn red, one after the other. 3. When the four LEDs are red, release the power button. 4. ANAFI reboots: a TXT file has been generated on the root of the drone's microSD card; it contains ANAFI's Wi-Fi network's original password and that is how you can check the reset procedure has been successful.
Resetting your smart battery
Remember that your ANAFI's smart battery enters wintering mode when you do not use it for 10 days in a row. When in wintering mode, pressing the power button does not turn the LEDs on. To exit the wintering mode, you need to initiate a charge, if only for a few seconds, until at least one LED starts blinking – even if Parrot recommends you always run a full charge before using a battery for a flight. Additionally, if your smart battery's behavior is not consistent with that described in the user guide, you can always reset your smart battery with the following quick procedure, which should be carried out on the battery alone, away from the drone. 1. Press the smart battery's power button and keep it pressed for 15 seconds, regardless of the LEDs behavior. 2. Release the battery's power button. 3. The battery's LEDs run green and red, then display the battery's charge level for a few seconds. 4. The battery's hard reset is complete.
Zoom issues
Unless ANAFI has incurred a crash, which has damaged its gimbal, its camera, or both, and which implies repair, most zoom issues users encounter are related to the "Lossless zoom only" option: first, remember that in the Photo mode, ANAFI's zoom is only available for the "JPEG RECT" format; second, remember that zooming on a "JPEG RECT" image downgrades the quality of the final photo. Therefore, if the "Lossless zoom only" option is activated, the zoom is effectively disabled even for the "JPEG RECT" photo format. Following this logic, for any zoom issue you encounter, your first reflex should be to open the "Camera" Preferences of FreeFlight 6, and to check that the "Lossless zoom only" value is set on "NO". Finally, remember that "JPEG WIDE" and "DNG+JPEG" photo formats use all 21MP of ANAFI's sensor, so zooming in these formats is always disabled, regardless of the camera settings.
FreeFlight 6 to Skycontroller 3 connection issues
Some users have reported cases where they could fly their ANAFI with their device, or with their Skycontroller 3, but not with both, as they could not seem to establish a connection between FreeFlight 6 and the Skycontroller 3. If this happens to you, try the following steps. 1. Power ANAFI off, close your Skycontroller 3, disconnect it from your device. 2. Reboot your device and disable its Wi-Fi and Bluetooth connections. 3. Set up ANAFI for flight like you usually do but use a different cable: if FreeFlight 6 launches automatically as you connect your device to your Skycontroller 3, you will find that the connection between FreeFlight 6 and the Skycontroller 3 has been restored. 4. If using a different cable fails, check your device's profiles with regards to FreeFlight 6, as even a minor update on your phone's operating system may have modified your profiles and app permissions. 5. Uninstall and reinstall FreeFlight 6 – iPhone users: BEWARE, as uninstalling FreeFlight 6 will permanently delete any ANAFI media you have not backed up on a computer or device. 6. If all else fails, try installing FreeFlight 6 on another device. If you still cannot establish a connection between your device and your Skycontroller 3, contact Parrot Support, as your Skycontroller 3's USB-A port may be damaged
DRONES LATEST NEWS
LATEST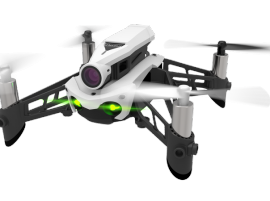 Parrot plans to stop selling Mambo and Swing drones
Parrot discontinued the Parrot Mambo Fly, Parrot Flypad, and Parrot Swing. According to Parrot, the company is exiting the toy and mini-drone industry, shifting its focus to prosumer and commercial drones.
Drone company Parrot, maker of the Anafi 4K folding drone, is reportedly leaving the mini-drone market. This week, Wirecutter confirmed that ...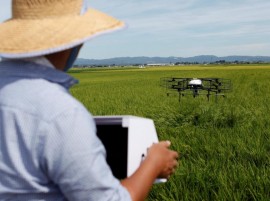 Drones offer high-tech help to Japan's aging farmers
The next generation farmhand in Japan's aging rural heartland may be a drone.
Nileworks Inc.'s automated drone flies over rice plants, spraying pesticide while diagnosing growth of individual rice stalks, during a demonstration in Tome, Miyagi prefecture Japan August 20, 2018.
For several months, developers and farmers in northeast Japan ...
Show more