JJRC X5
Class

Travelling and outdoors; For video recording

Type

Quadcopter

Camera

Built-in 2K FHD 90 Degree Adjustable; Gimbal; FPV

Control

Remote Controller

Video recording resolution

Full HD (1920x1080)
JJRC X5 KEY FEATURES
● BRUSHLESS MOTORS & 40mins Flight Time. Upgraded 2204 1500KV brushless motors for quieter powerful flight and better stability, which enables you to fly the drone in cold winter.2 PCS 7.6V 2420mAh high capacity intelligent batteries provide 40 minutes flight. More flying experiences will be gained.
● 5G Wifi 2K FHD CAMERA With 90° Adjustable angle. 2K (2048*1152p) camera, which can be adjusted by a remote controller. 5G WiFi high-speed image transmission(984ft) without delay, enjoy real-time images through App.Note:5G WIFI is different from 5G network. The drone does not need a 5G network.
● GPS Mode & Safe Flight. GPS positioning provides you with accurate positioning details of your drone. It is able to provide with automatic return, low power return, and no signal return.No longer worry about the drone will lose.
● FOLLOW ME & POINT OF INTEREST. The drone allows pilots to create points of interest, then it automatically circles around that point, improving the flight experience. Follow me mode under GPS positioning make the drone always follow your steps and point the camera to you to catch your every move and take aerial photos.
● Simple Operation & Outdoor Flight. With a combination of one key start/stop, altitude hold, and GPS functions, the drone is simple to control for even beginners. Because of its powerful motors, safe flight, and long endurance, perfect for outdoor flight.
Buying options: JJRC X5 with One battery $206.42, JJRC X5 with Two battery $226.42, JJRC X5 with Three battery $246.42
Full description
Travelling and outdoors; For video recording
Built-in 2K FHD 90 Degree Adjustable; Gimbal; FPV
Video recording resolution
Return to Home Technology; Position Hold Mode; GPS; Gimbal; Follow Me Technology; FPV; Automatic Landing Technology; Altitude Hold Mode
1 x RC Quadcopter
1 x Transmitter
1 x 7.4V 1800mAh Lipo Battery
1 x Clip
1 x Balancing Charger
1 x Charging Adapter
1 x Camera
4 x Soft Rubber Mat
1 x USB Charging Cable
4 x Propeller
1 x Screwdriver
2 x User Manual
1 x Phone Holder
DRONES LATEST NEWS
LATEST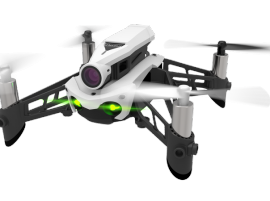 Parrot plans to stop selling Mambo and Swing drones
Parrot discontinued the Parrot Mambo Fly, Parrot Flypad, and Parrot Swing. According to Parrot, the company is exiting the toy and mini-drone industry, shifting its focus to prosumer and commercial drones.
Drone company Parrot, maker of the Anafi 4K folding drone, is reportedly leaving the mini-drone market. This week, Wirecutter confirmed that ...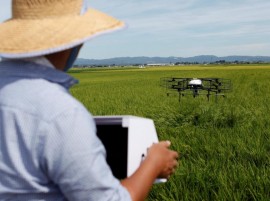 Drones offer high-tech help to Japan's aging farmers
The next generation farmhand in Japan's aging rural heartland may be a drone.
Nileworks Inc.'s automated drone flies over rice plants, spraying pesticide while diagnosing growth of individual rice stalks, during a demonstration in Tome, Miyagi prefecture Japan August 20, 2018.
For several months, developers and farmers in northeast Japan ...
Show more