Aeryon Systems SkyRanger R80D
Class

For video recording, Industrial applications, Professional; Military

Camera

Replaceable camera, Suspension camera

Control

Remote device

Control range

5 km with standard base station
10 km with directional antenna

Flight time

Up to 50 min
Rugged & Reliable
Carbon fiber and magnesium airframe, tested to IP-54 / MIL-810G
Intelligent & Autonomous
Multiple NVIDIA Tx2 processors for AI on the edge
Payloads up to 2 kg
Easily attach, carry and deliver payloads up to 2 kg
Flexible & Modular
New Application and Payload Development Kits, and multiple power sources (tethered and free flight)
Full description
Since its release in 2013, the SkyRanger R60 has captured real-time aerial intelligence across 30 countries, for well over 100,000 collective hours of operation. The world's most demanding UAS operators have come to rely on the SkyRanger when lives and livelihoods hang in the balance.
With the new R80, Aeryon is pushing the small UAS performance envelope, with more computing power, more payload capacity, and more advanced software features. Delivering a broader range of mission capabilities, in a wider set of environments, the R80 is redefining what's possible with a man-packable UAS.
The R80 is designed to grow with you. It's the single platform for your next 10 years of sUAS operations.
With multiple embedded NVIDIA TX2 processors, the R80 is a flying supercomputer with an engine for real-time artificial intelligence at the network edge, including object detection and classification.
The R80's power is delivered from four redundant batteries, each rated below 99Wh for easy transportation on commercial aircraft. With its optional plug-in tether kit the R80 can provide persistent endurance for long-term overwatch or surveillance applications, and then can be reconfigured quickly back into free-flight mode.
The R80's Payload Development Kit (PDK) extends payload development to end users and third-party integrators, enabling the rapid development of application-specific payloads for the R80 platform. The PDK enables full integration with the R80 airframe, including:
Mechanical mounting (with vibration isolation)
Power from aircraft batteries
Sensor data from aircraft (e.g. GPS)
Secure IP networking
Gain persistent eyes on target with AIR which enables a fully charged, ready to launch R80 to automatically replace another airborne R80 when its battery is depleted or it needs to land.
AIR also enables real-time payload swaps for when conditions change (daylight into night operations) where a R80 flying an EO/IR Mk-II replaces a R80 flying a HDZoom 30 for improved nighttime ISR.
Using Aeryon's new Multi-Aircraft Control software, a single pilot can fly multiple R80s from a single Ground Control Station (GCS), on a single network, in coordinated semi-autonomous flight plans. This enables advanced missions including:
Coordinated, multi-sensor ISR
Large-area reconnaissance and mapping
GPS Zeroize ensures that no sensitive information falls into enemy hands. With GPS Zeroize turned on, no location records are stored, and no video is recorded on the aircraft.
When missions call for operation in denied RF environments, Dark Mode enables semi-autonomous flight plans without an active C2 link. This capability will evolve to enable applications such as beyond visual line of sight (BVLOS) payload emplacement and clandestine ISR in non-permissive environments.
Payloads:
                         HDZoom 30                                                                      EO/IR Mk-II
                        
                 Front-mounted EO/IR                                                             Osprey
One Platform, Many Missions:
Tactical ISR
The R80 carries a suite of long-range, high-resolution, stabilized daylight and IR imaging payloads. A front-mounted dual EO/IR provides wide angle day and night situational awareness and a piloting view when used with non-optical payloads.
Persistent Overwatch
With Automatic In-Air Replacement (AIR) operators can maintain persistent eyes on target by swapping multiple R80s in real time. A field-installable power tether, available later this year, will enable sustained fixed-location overwatch for FOB security or similar missions.
Payload Delivery
With the new Osprey carry and delivery payload, R80 operators can rapidly attach, carry, and deliver nearly any object up to 2 kg for forward resupply, asset extraction or other specialized missions.
For video recording, Industrial applications, Professional; Military
Replaceable camera, Suspension camera
5 km with standard base station
10 km with directional antenna
Aircraft 4.5 kg (Airframe, arms, legs, 4 batteries, no payload)
Standard Pack 8.5 kg (Aircraft, Base Station, HDZoom 30)
4.4 lbs (2 kg) with standard propulsion configuration
| Store | | Shipment | Region | Product | Price | To store |
| --- | --- | --- | --- | --- | --- | --- |
| | Aeryon Store | Tracking service | Worldwide | Aeryon Systems SkyRanger R80D | Enquire about the price to the sales department | Visit Store Buy Online |
DRONES LATEST NEWS
LATEST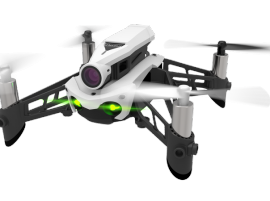 Parrot plans to stop selling Mambo and Swing drones
Parrot discontinued the Parrot Mambo Fly, Parrot Flypad, and Parrot Swing. According to Parrot, the company is exiting the toy and mini-drone industry, shifting its focus to prosumer and commercial drones.
Drone company Parrot, maker of the Anafi 4K folding drone, is reportedly leaving the mini-drone market. This week, Wirecutter confirmed that ...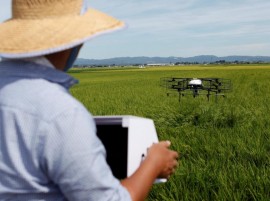 Drones offer high-tech help to Japan's aging farmers
The next generation farmhand in Japan's aging rural heartland may be a drone.
Nileworks Inc.'s automated drone flies over rice plants, spraying pesticide while diagnosing growth of individual rice stalks, during a demonstration in Tome, Miyagi prefecture Japan August 20, 2018.
For several months, developers and farmers in northeast Japan ...
Show more