DJI Mavic 2 Zoom
Class

Travelling and outdoors; For video recording

Type

Quadcopter

Camera

Built-in camera, 12 megapixel, 1/2.3" CMOS

Control

Remote device

Video recording resolution

4K: 3840×2160 24/25/30p
2.7K: 2688x1512 24/25/30/48/50/60p
FHD: 1920×1080 24/25/30/48/50/60/120p
The Mavic 2 offers iconic Hasselblad image quality on the Pro and a high-performance zoom lens on the Zoom.
KEY FEATURES
● 2x Optical Zoom
● 1/2.3″ CMOS Sensor
● 48MP Super Resolution Photo
● 4x Lossless Zoom FHD Video
● Dolly Zoom
● Hyperlapse
Full description
Travelling and outdoors; For video recording
Built-in camera, 12 megapixel, 1/2.3" CMOS
Video recording resolution
4K: 3840×2160 24/25/30p
2.7K: 2688x1512 24/25/30/48/50/60p
FHD: 1920×1080 24/25/30/48/50/60/120p
Up to 31 minutes (at a consistent 25 kph)
Supporting Micro SD with capacity up to 128 GB and R/W speed up to UHS-I Speed Grade 3
Unfolded: 322×242×84 mm
Folded: 214×91×84 mm
1 x Aircraft ( Built-in Intelligent Flight Battery ), 1 x Remote Controller, 1 x Charger, 1 x Power Cable, 3 x Pair of Propellers, 1 x RC Cable ( with Lightning Connector ), 1 x RC Cable ( with Micro USB Connector ), 1 x RC Cable ( with USB Type-C Connector ), 1 x Gimbal Protector, 1 x Communication Cable ( USB 3.0 Type-C ), 1 x USB Adapter, 1 x RC Cable Slider ( Large ), 2 x RC Cable Slider ( Small ), 1 x Pair of Spare Control Sticks
Store
Shipment
Region
Product
Price
To store

DJI store

Fast delivery

Tracking service

Worldwide

DJI Mavic 2 Zoom

$1289

Visit Store Buy Online
1. What are the main differences between the Mavic 2 Pro and Mavic 2 Zoom?
The only difference between both editions is their respective gimbal cameras. However, by purchasing the Mavic 2 Gimbal Camera Replacement Service on the online repair request page, you have the option to replace your gimbal camera with the other version by sending it to the DJI After-Sales Team.
2. Compared to the Mavic Pro, how has the Mavic 2 been improved?
The Mavic 2 is an improvement in almost all aspects over the Mavic Pro including camera performance, video transmission, flight time, flight speed, low-noise, omnidirectional obstacle sensing, intelligent functions, and its unique Hyperlapse feature.
3. Is the Mavic 2 compatible with DJI Goggles series?
Yes. The Mavic 2 is compatible with DJI Goggles (firmware version 01.04.0500 or above) and DJI Goggles RE (firmware version 01.00.0600 or above). Please first activate DJI Goggles or DJI Goggles RE and update their firmware to the latest one on your computer using DJI Assistant 2. Power on DJI Goggles or DJI Goggles RE, choose Linking in Settings, then choose Mavic 2. Press the link button on the Mavic 2 and wait for a few seconds to connect DJI Goggles or DJI Goggles RE to the aircraft. DJI Goggles only support the 2.4 GHz signal frequency, while DJI Goggles RE support 2.4/5.8GHz dual signal frequency for more powerful performance. * To download the version of DJI Assistant 2 that is compatible with DJI Goggles RE, please visit https://www.dji.com/dji-goggles-re/info#downloads. * To download the version of DJI Assistant 2 that is compatible with DJI Goggles, please visit: https://www.dji.com/dji-goggles/info#downloads.
4. Is the Mavic 2 waterproof?
No.
5. What are the main advantages of the cameras on both the Mavic 2 Pro and Mavic 2 Zoom?
The Mavic 2 Pro comes equipped with the all-new Hasselblad L1D-20c camera. The brand new 1-inch CMOS sensor has an active sensing area four times more effective than the original Mavic Pro. The large sensor also means better performance in low-light environments with a more extensive ISO range, and max ISO lifted from 3200 to 12800. The Mavic 2 Zoom is all about dynamic perspectives and is powered by a 1/2.3-inch 12-megapixel sensor with up to four-times zoom, including a two-times optical zoom (24-48mm) for more creative aerial photography options.
6. Why is the L1D-20c on the Mavic 2 Pro designed by Hasselblad?
DJI and Hasselblad have spent the last two years in collaboration making the L1D-20c camera, co-developing attributes such as lens definition, image processing engine, and image effect optimization, to make a Hasselblad quality camera small enough to fit on the new Mavic 2 Pro. The L1D-20c also possesses Hasselblad's unique Hasselblad Natural Colour Solution (HNCS) technology, helping users to capture gorgeous 20-megapixel aerial shots in stunning color detail.
7. What advantages does the Mavic 2 Pro have when recording video?
The Mavic 2 Pro is capable of recording 3840×2160 10-bit 4K Dlog-M and 4K HDR 10-bit videos at 100Mbps.
8. What is the focal length of the Mavic 2 Zoom?
The Mavic 2 Zoom's 24–48 mm optical zoom camera supports shooting at 4x lossless zoom 1080p video.
9. Can I use the remote controller to move the Mavic 2's gimbal 75° from left to right?
No. However, you can control the Mavic 2's gimbal movements with DJI GO 4 or a connected pair of DJI Goggles. In DJI GO 4, press and drag any point of the app's live view interface to do so. You can also rotate the gimbal left and right to a maximum angle of 75° when using Head Tracking mode on the DJI Goggles series.
10. Why does the Mavic 2 not have Portrait mode like the Mavic Pro?
The Mavic 2's gimbal structure is optimized for increased stability, meaning that the camera is unable to rotate the gimbal along the roll axis. However, you can choose Vertical mode in Panorama to achieve a stitched vertical photo.
11. Why does Dlog-M only feature on the Mavic 2 Pro and not the Mavic 2 Zoom?
Dlog-M is only available on the Mavic 2 Pro because the pro version was designed with the needs of professional photographers in mind, meeting demands for greater color correction capabilities. On the other hand, the Mavic 2 Zoom has D-Cinelike to realize quick and easy color correction. Along with Dlog-M, D-Cinelike reserves more highlight and color information than any normal color correction mode, leaving more room for post-processing.
12. Can Mavic 2 take photos while recording video?
No.
13. What is the difference between Full FOV mode and HQ mode under Mavic 2 Pro's 4K resolution?
Full FOV down samples from the 5.5K sensor to 4K resolution while HQ crops in the center for finer image quality but less FOV. Full FOV view is 75° and HQ view is 55°. You can select between them according to your actual shooting demands.
14. Can I adjust the focal length for Dolly Zoom on the Mavic 2 Zoom?
No.
15. How can I save the original photos generated when shooting Hyperlapse videos?
Go to Camera Settings and tap the 'Save Original' button. You can select to save the original photos of the Hyperlapse video in either JPEG or RAW format. In 'Storage Location' you can choose to keep them on the Micro SD card or the internal storage.
16. What is the maximum flight distance of the Mavic 2?
18 km in extreme testing environments measured in 50.4 kph windless conditions down to 0% battery. However, be sure to keep enough battery during flights for a safe return.
17. What is the maximum wind resistance level of the Mavic 2?
The Mavic 2 can resist up to level 5 winds on the Beaufort scale.
18. Can the Mavic 2's low-noise propellers be used on the Mavic Pro Platinum?
No, the sizes are different, and therefore cannot be used on the Mavic Pro Platinum.
19. Why are the maximum flight and hovering times different on the Mavic 2?
The Mavic 2's rotor system is optimized primarily for forward flight. Thanks to its more aerodynamic airframe, the Mavic 2 consumes less power at certain forward flight speeds than when hovering. Therefore, the maximum hovering time is 29 minutes in environments with no wind while the maximum flight time can be up to 31 minutes flying at a constant speed in conditions with no wind.
DRONES LATEST NEWS
LATEST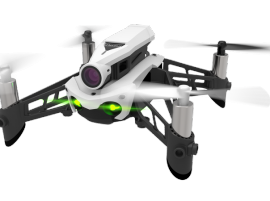 Parrot plans to stop selling Mambo and Swing drones
Parrot discontinued the Parrot Mambo Fly, Parrot Flypad, and Parrot Swing. According to Parrot, the company is exiting the toy and mini-drone industry, shifting its focus to prosumer and commercial drones.
Drone company Parrot, maker of the Anafi 4K folding drone, is reportedly leaving the mini-drone market. This week, Wirecutter confirmed that ...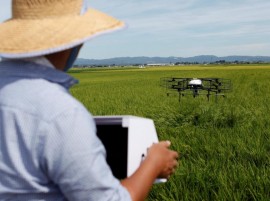 Drones offer high-tech help to Japan's aging farmers
The next generation farmhand in Japan's aging rural heartland may be a drone.
Nileworks Inc.'s automated drone flies over rice plants, spraying pesticide while diagnosing growth of individual rice stalks, during a demonstration in Tome, Miyagi prefecture Japan August 20, 2018.
For several months, developers and farmers in northeast Japan ...
Show more