DJI MATRICE 100
Class

Professional, Industrial application

Type

Quadcopter

Camera

Suspension camera, Replaceable camera

Control

Remote device

Flight time

Up to 40 min (No payload with two TB48D battery)
KEY FEATURES
● Guidance Support
● Powerful Propulsion System
● Expansion Bays
● Dual Battery support
● Universal Power and Communication Ports
● Adjustable Arm Torque
Full description
Start flying quickly, and enjoy stable, reliable flight. The Matrice 100 platform has all of DJI's easy-to-flytechnology built in, and includes the flight controller, propulsion system, GPS, DJI Lightbridge, a dedicated remote controller, and a rechargeable battery. This system automatically manages the most complex tasks required for flight, so you can focus on your work.
Customize and tailor your flight platform by using the DJI SDK. Develop a system for any use, and revolutionize industriesby applying your knowledge and skills to cutting-edge flight technology.
Additional expansion bays allow you to add components, customize the payload, and fly with any devices you want. Put cameras, sensors, computing boards, communication tools, and more into the sky, and gather data while completing complex jobs from a birds-eye view.
Connect and fly with a range of DJI or third party devices, and transmit data to the ground in real time. The Matrice 100 has dual parallel CAN ports for connecting DJI devices including the Guidance sensor system and dual parallel UART ports for connecting third party components of your choice. Now it is easy to mount your own equipment and put it into the sky.
Achieve perfect balance and an ideal flight experience by sliding the battery and other compartments around the body of your Matrice 100. Put your components exactly where you want them, and get the most out of your system.
Teach your Matrice 100 how to behave and what to do. Program customized commands, tell it how and where tofly, and gather information from the entire system in real time.
Flexible to match your flight needs, adjusting the arm angle of each of the 4 arms is quick and easy. Achieve increased yaw torque and greater response by tilting the arms to a 3 degree angle. For greater flexibility when adding additional payload, an optional second battery can be mounted into a dedicated power slot.
An upgraded version of the respected DJI E800 electric propulsion system powers your Matrice 100 and keeps it in flight. Four powerful, brushless motors and four lightning fast Electronic Speed Controllers are integrated into the platform, giving you complete control during flight. With increased strength and payload capacity, you have the flexibility to create the system you need.
To reduce vibrations, increase stiffness, and bring unmatched reliability, your Matrice 100 is made of strong, lightweight carbon fiber. Each of the arms contains DJI's new soft vibration absorbing material that virtually eliminates feedback from the powerful motors, keeping your critical components stable and allowing unprecedented accuracy.
Innovative landing pads or "feet" are installed at the base of each arm to protect your Matrice 100 when landing. These pads greatly reduce impact, protecting your system and eliminating the chance of your platform unintentionally lifting off of the ground. Also easy and quick to remove for replacement or upgrades.
Enhanced GPS with a foldable mount helps you to track your Matrice 100's position in real time, while enabling faster satellite acquisition, more accurate position holding and flight planning.
A lightweight frame and efficient motors give you up to 40 minutes* of flight time. For greater flexibility when adding additional payload, an optional second battery can be mounted into a dedicated power slot.
*Flight times vary based on payload and flight conditions, maximum 40 minute flight time is testedwhen hovering with dual TB48D batteries and no additional payload.
Take control of your platform with the customizable, long-range remote controller included with the Matrice 100. With an operating distance of up to 3.1 miles* (5km), a rechargeable battery, fully adjustable controls, and outputs to connect to your mobile device, this is the perfect tool to command your system in the air.
*Maximum range tested in open areas free of interference and may vary depending on local regulations.
Fly with the feature-rich DJI GO app or create your own app with the DJI SDK. See a live view, control your devices, access a real-time map, and more by simply plugging in your tablet or smartphone.
DJI's new N1 flight controller keeps your Matrice 100 stable and responsive to your commands throughout every flight. Transmitting data to you and bringing a live HD view (when using DJI's X3 Camera and gimbal), the included DJI Lightbridge increases your flight range to 3.1miles* (5km).
*Maximum range tested in open areas free of interference and may vary depending on local regulations.
Professional, Industrial application
Suspension camera, Replaceable camera
Up to 40 min (No payload with two TB48D battery)
22 m/s (ATTI mode, no payload, no wind)
17 m/s (GPS mode, no payload, no wind)
STANDARD: model TB47D, 4500 mAh, 22.2 V, LiPo 6S, 600 g
OPTIONAL: model TB48D, 5700 mAh, 22.8 V, LiPo 6S, 676 g
Weight (with TB47D battery) 2355 g
Weight (with TB48D battery) 2431 g
Max. Takeoff Weight 3600 g
Diagonal Wheelbase 650 mm
Store
Shipment
Region
Product
Price
To store

DJI store

Fast delivery

Tracking service

Worldwide

DJI MATRICE 100

$3299

Visit Store Buy Online
1. Why does my Matrice 100 drop two to three meters when hovering in place? How can I fix this issue?
This issue is mainly caused by the barometer. The barometer is used for maintaining height, but a deviations may occur due to the barometer's accuracy. The barometer may encounter interference from airflow disturbances caused by the propellers rotating. Also, barometer performance may be affected by environmental conditions, such as high winds and the abnormal airflows between buildings. To maintain a constant altitude in a variety of situations, additional sensors need to be used, such as vision sensors and ultrasonic sensors.
2. What should be paid attention to when using two batteries?
To ensure the system does not send out warnings when using two batteries, you must first power on the one connected to the main controller (the main battery) first, and then power on the other one (the secondary battery). When turning off two batteries, check if their battery levels are the same. If so, please turn off the main battery first and then the secondary battery. If the battery levels are different, turn off the one with the higher battery level before turning off the other one. If just one battery is being used, please pull the XT 60 cable out of the empty battery compartment to avoid short circuiting.
3. Is the Matrice 100's GPS the same as the A2's?
No. The A2 just contains one GPS module, while the GPS used in Matrice 100 is the updated version of A2's. The A2's GPS can be used on the Matrice 100 , We don't suggest you to do so.
4. Can the battery compartments be mounted onto the central board?
Yes, you can mount the battery compartments onto either the bottom central board or the upper central board. To do this; place the battery compartments so that the battery terminals are pointing to the aircraft tail, and use four M2.5x5 screws to secure them onto the extension bar. Tune the aircraft's center of gravity by adjusting the position of the compartments. To ensure the cables are not being pushed by any compartments onto the central board, pull the cables through the reserved cable hole on the upper board.
5. How do I connect cables when mounting a gimbal?
Connect one end of the 10 pin gimbal cable to the 10 pin port on the flight controller. Connect the other end to the 10 pin port on the gimbal lock. Follow the same steps when connecting the 8 pin gimbal cable.
6. Can the H4-3D or H3-3D gimbal be mounted onto the Matrice 100?
No. However, you can mount the Zenmuse X3 onto the Matrice 100, or mount the Zenmuse X5 series onto the Matrice 100 using X5 adapters.
7. The Matrice 100 will sometimes drift 2 - 3 m up and down when hovering in the sky. What causes this problem?
This problem is caused by the barometer; the barometer is an important sensor used to detect flight altitude. There are a few reasons why the barometer may not function accurately. It could just be defect in the barometer precision that causes an error when detecting flight altitude. It could also be that the rotation of the propellers causes air turbulence that interferes with the barometer's proper functioning. Additionally, the environment's complex air flow (for example heavy winds or the air flow between buildings) can also impact the barometer's sensors.
8. What is included in the Matrice 100 box?
The Matrice 100 comes with a center frame, remote controller, battery, battery charger, GPS, extension frame accessory pack, and propellers in the box. You will need to purchase Guidance, Guidance installation fittings, gimbal accessories, and a gimbal separately.
DRONES LATEST NEWS
LATEST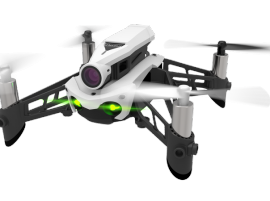 Parrot plans to stop selling Mambo and Swing drones
Parrot discontinued the Parrot Mambo Fly, Parrot Flypad, and Parrot Swing. According to Parrot, the company is exiting the toy and mini-drone industry, shifting its focus to prosumer and commercial drones.
Drone company Parrot, maker of the Anafi 4K folding drone, is reportedly leaving the mini-drone market. This week, Wirecutter confirmed that ...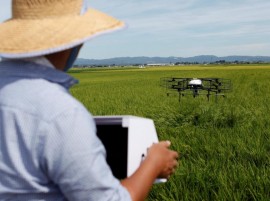 Drones offer high-tech help to Japan's aging farmers
The next generation farmhand in Japan's aging rural heartland may be a drone.
Nileworks Inc.'s automated drone flies over rice plants, spraying pesticide while diagnosing growth of individual rice stalks, during a demonstration in Tome, Miyagi prefecture Japan August 20, 2018.
For several months, developers and farmers in northeast Japan ...
Show more