Xiaomi FIMI X8 SE
Class

Travelling and outdoors; For video recording

Type

Quadcopter

Camera

Built-in camera, 12 megapixel

Control

Remote device

Video recording resolution

4K: 3840x2160 30/25/24fps
2560x1440 60/50/30/25/24fps
1080P 100/60/50/30/25/24fps
720P 200fps
Key features:
● 4K100Mbps video
● 3-axis mechanical gimbal
● Folding portable design
● 5km transmission range
● Smart track and smart flight
● 33mins flight time
● Precise vision positioning system
Full description
Features:
1. With Foldable and portable design, the drone is easy to carry.
2. 3-axis Mechanical Gimbal: It combines a lightweight 3-axis mechanical gimbal with the latest professional control algorithms, bringing in the ultra-smooth and jello-free videos even in high-speed or strong-wind conditions.
3. 4K 100Mbs Videos: The drone shoots video at an incredible 4K/30fps and captures every moment perfectly.
4. 5 KM Range: The image transmission distance is up to 5km improved by enhanced anti-interference performance and adaptive streaming bitrate technology.
5. Flight time is up to 33mins with 11.4V 4500mAh lipo battery.
6. Smart Tracking Mode: With the powerful visual tracking system, the drone can precisely lock the target with more powerful flight planning shooting.
7. Precise Vision Positioning System: GPS+glonass dual-satellites positioning system ensures more precise hovering and faster positioning.
8. The transmitter is with detachable sticks and stretched structure design.
Travelling and outdoors; For video recording
Built-in camera, 12 megapixel
Video recording resolution
4K: 3840x2160 30/25/24fps
2560x1440 60/50/30/25/24fps
1080P 100/60/50/30/25/24fps
720P 200fps
About 33mins (at 8m/s constant speed)
4500mAh lithium battery, 11.4V
Micro SD (U3 or above) 8-64GB (Sandisk/Kingston U3 recommend)
1 x RC Quadcopter( with camera), 1 x Transmitter 1 x 11.4V, 4500mAh Lipo Battery, 3 x USB Cable, 4 x Propeller, 1 x AC Cable, 1 x Charger, 2 x Manual
What should I do if I look for Fimi's support or after-sales?
If you have any inquiry, please submit an "After-sale Service Acceptance Form" to support@fimi.com. This form contains the necessary information to speed up your After-sale service progress (filling this form just needs 1-3 minutes). Our support team will guide you through the preliminary diagnosis process. We will reply to you as soon as possible once we received your form.
What if I need local repair services to address my after-sales issue of X8SE?
Fimi has been helping customers locate 3rd-party repair centers who can provide local languages and technical supports. The Fimi support team is always at our user's service, but if any users have the needs for local repair services, they might as well try reaching out to these 3rd-party service centers (don't forget to share with us your experience with these local services. Note Fimi will not be responsible for any charges/fees incurred between the customer and 3rd party center). Germany FPV1.DE, w/ German,-English,-French-speaking staff Email: support@fpv1.de Tele.: +49 6737 3589 260 Whatsapp: +49 1590 8409 143 Spain Canary Stock, w/ Spanish-speaking staff Email:support@canarias-stock.es Tele.: 626531801 Indonesia Afandyx-store w/ Indonesian,-English,-Chinese-speaking staff: HUGO Email: hugostoreidn@gmail.com Tele.: +62-81272761661 Line or Whatsapp: +62-81272761661
What's the maximum flying height and distance of the drone?
X8SE is designed for consumer use. Its main goal is satisfying consumer's flying experience. It can reach as high as 500m, and as far as 5000m. Once the drone reaches its maximum height or distance, it will stop climbing or going forward.
Why the real-time picture returned by the drone camera unclear?
When you view the aerial image of the drone camera in real-time through the mobile phone, it is an FPV screen. When you display it on the screen, it's not clear enough, but it will not affect the original file resolution of the memory card in the camera. After the flight, you can download the original video to a mobile phone or a computer for viewing. At this time, what you see is the high-definition video.
How to resolve if the real-time picture on controller is stuck after the drone flies out for a certain distance?
This problem is mostly caused by antenna problems and signals interference. You can follow below steps to check: try to point the remote control antenna face to the direction of the drone horizontally; try to replace the flight environment to eliminate signal interference; confirm if the remote control antenna is broken, or the antenna is rotated for 360 degrees or if the gimbal has entered into liquid, has been dropped, impacted; if the fault remains, it is recommended to contact FIMI.
DRONES LATEST NEWS
LATEST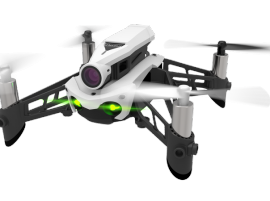 Parrot plans to stop selling Mambo and Swing drones
Parrot discontinued the Parrot Mambo Fly, Parrot Flypad, and Parrot Swing. According to Parrot, the company is exiting the toy and mini-drone industry, shifting its focus to prosumer and commercial drones.
Drone company Parrot, maker of the Anafi 4K folding drone, is reportedly leaving the mini-drone market. This week, Wirecutter confirmed that ...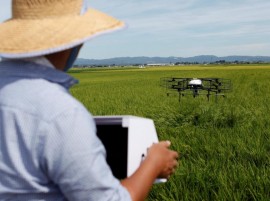 Drones offer high-tech help to Japan's aging farmers
The next generation farmhand in Japan's aging rural heartland may be a drone.
Nileworks Inc.'s automated drone flies over rice plants, spraying pesticide while diagnosing growth of individual rice stalks, during a demonstration in Tome, Miyagi prefecture Japan August 20, 2018.
For several months, developers and farmers in northeast Japan ...
Show more