Parrot Bebop 2 Adventurer
Class

Travelling and outdoors; For video recording

Type

Quadcopter

Camera

14 mega-pixels with fish-eye lens

Video recording resolution

1920 x 1080p (30fps)

Flight time

25 minutes
The ultimate pack to film your adventures
When you set out to fly the Parrot Bebop 2, you often have a real adventure in mind. Buckling up your bag, grabbing your tent, mapping out your route, etc. This new pack is inspired by modern adventurers. The Parrot Bebop 2 Adventurer has all the equipment you need to fly in the great outdoors!
Experience your adventures from the sky with the Parrot Cockpitglasses and the Parrot Skycontroller 2. Take full advantage of the Follow-Me app and our backpack, which is specifically designed for the Parrot Bebop 2 drone and its accessories. The sky's the limit with the Parrot Bebop 2 Adventurer!
Full description
SIMPLE TO USE, INTENSELY THRILLING
The Parrot Bebop 2 is the ideal drone for adventure seekers! It's sturdy, compact, and extremely lightweight (a mere 1.1 lbs), so you can easily take it with you wherever you go. It will accompany you on all of your excursions, capturing your very best moments.
The Parrot Bebop 2 is highly intuitive. You don't need to be a professional to pilot this drone. Concentrate on the essentials: the accelerometer and tactile controls simplify all of your maneuvers (flying, landings, takeoffs).
TOTAL FLIGHT IMMERSION
The FPV Parrot Cockpitglasses will make you feel like you're in the air. Enjoy total immersion, spectacular flight sensations, and a sense of freedom. High-definition images and a 90° field of view create the feeling of total escape. Leave the rest of the world behind and get your adrenaline pumping!
A REVAMPED PACK FOR EVERY EXCURSION
The Parrot Bebop 2 has a battery life of 25 minutes and a flight range of up to 1.2 miles. Its optimized and secure Wi-Fi connection enables you to receive video feedback on your smartphone.
Since it's expedient and easy to maintain, you'll soon rely on it for all of your adventures. You'll be ready for all kinds of exciting excursions with this complete pack!
TRANSPORT MADE EASY
We're well aware that your trips depend on easy equipment transport. You'll never leave home without your Parrot Backpack. This comfortable, ergonomic backpack was designed for effortless transport and features: 2 exterior and 2 interior pockets to hold accessories and a tablet. It even has a compartment for your laptop. It is made of sturdy, high quality, material and provides optimal protection for your equipment while you're on the move.
IT FOLLOWS ME ON AUTOPILOT
During certain types of excursions, it can be difficult to pilot a drone. That's why the Bebop 2 Adventurer comes with the Follow-Me app. Included in the app pack, this feature enables you to capture your best moments in pictures and videos. This is made possible through visual recognition technology and the GPS tracking system and barometer on your smartphone. You can tuck your smartphone away and trust that the drone automatically follow you…no matter where you are or what your doing.
FLY OFF INTO THE WILD BLUE YONDER
The Parrot Bebop 2's exceptional stability and compact design enable you to weave in and out of the tightest spaces. Have you caught a glimpse of wildlife in the mountains? Approach discretely and simply maintain a hovering position. All you need to move is the wide-angle Fisheye camera lens. You can rotate it downwards up to 90° or explore you surroundings over a 180° intake width.
Travelling and outdoors; For video recording
14 mega-pixels with fish-eye lens
Video recording resolution
1 Parrot Bebop 2; 1 Parrot Skycontroller 2; 1 Parrot Cockpitglasses; 1 Parrot Bebop; 2 Backpack; 2 Sets of 4 propellers Parrot Bebop 2; 1 Follow-me GPS & Visual Tracking In-App Promo ode; 1 High Capacity Battery; 1 Charger + 2 Cables; 1 USB Cable; 1 Smartphone/Tablet Stand;
Store
Shipment
Region
Product
Price
To store

Amazon UK

Fast delivery

Tracking service

Europe

Parrot Bebop 2 Adventurer

£519.99

Visit Store Buy Online
How to reset Bebop 2 FPV
To reset your drone, switch it on and wait for the light to stop flashing. Then, hold the ON/OFF button down for 10 seconds. After doing this, Bebop 2 FPV's light will flash and the drone will restart. Do not worry if this step takes several minutes. Once Bebop 2 FPV has restarted, the reset procedure is complete.
How to change the network name of my Bebop 2 FPV
To change the name of the network, change the name of your Parrot Bebop 2 FPV in the Network Name field and restart your drone.
How to find the serial number of my PARROT Bebop 2 FPV
To find the serial number of your PARROT Bebop 2 FPV, simply log in to the Freeflight Pro app interface. Your serial number will appear on the main screen. Press the name of the last connected drone to access the available information such as product type, hardware version, software version or even GPS version.
How to share a flight with Parrot Cloud
You can send your flights by email to share them on the social networks. To do this, you must be registered on Parrot Cloud or Parrot Academy and have an internet connection. There are two buttons for sharing: Send the flight by email and Share, which is used for sharing your flight on the social networks.
How accurate is the GPS position during the flight
GPS accuracy depends on the number of satellite connections you have. Depending on these satellites, the GPS position of your Parrot Bebop 2 FPV is accurate to a distance of 3 meters. When creating a flight plan, it is important to take these factors into account. It is recommended to start using Flight Plan in an open area to become familiar with the application's settings and the limitations of the GPS.
What happens if the drone loses the GPS signal during a Flight Plan
Parrot Bebop 2 FPV hovers in a stationary position and tries to recover a GPS signal. Pilot intervention is required to complete the flight plan. If the GPS signal cannot be recovered, Parrot Bebop 2 FPV will stay in the same place. When the battery level is too low, Parrot Bebop 2 FPV will land.
Once lost, how long does it take to find the GPS signal again
This can vary greatly depending on the surroundings. However, under ideal conditions, the signal can be recovered in a few seconds. Without a GPS signal, the return to home (RTH) function is unavailable.
Do I need to stay connected to the Wi-Fi of the drone to perform a flight plan?
No, although you must be connected by Wi-Fi to the drone to monitor the video. It is advisable to have the option to take over the controls of the drone in the event of unforeseen circumstances. It is therefore advisable to stay within range of the drone while a flight plan is being executed.
What happens if I shut down FreeFlight Pro during a flight plan?
The drone completes the flight plan that is currently in progress. Warning: in this case, you will not be able to regain control of the drone in the event of unforeseen circumstances.
What is the maximum flight time allowed for a Flight Plan?
Flight plans can be created for an unlimited duration. However, the flight time may be limited by the battery charge of Parrot Bebop 2 FPV. When the battery level is too low, Parrot Bebop 2 FPV will land immediately. Warning: if Parrot Bebop 2 FPV is in an inaccessible area (e.g. over a lake), the battery must be fully charged when executing your flight plan. Should the GPS signal be lost, the drone will hover in a stationary position. Once the GPS signal is recovered, the flight plan can only be resumed by the pilot's actions.
DRONES LATEST NEWS
LATEST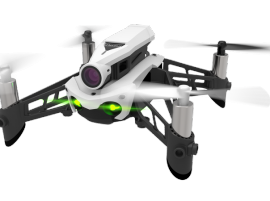 Parrot plans to stop selling Mambo and Swing drones
Parrot discontinued the Parrot Mambo Fly, Parrot Flypad, and Parrot Swing. According to Parrot, the company is exiting the toy and mini-drone industry, shifting its focus to prosumer and commercial drones.
Drone company Parrot, maker of the Anafi 4K folding drone, is reportedly leaving the mini-drone market. This week, Wirecutter confirmed that ...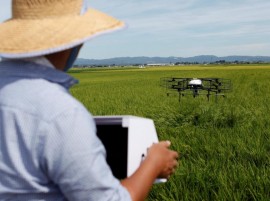 Drones offer high-tech help to Japan's aging farmers
The next generation farmhand in Japan's aging rural heartland may be a drone.
Nileworks Inc.'s automated drone flies over rice plants, spraying pesticide while diagnosing growth of individual rice stalks, during a demonstration in Tome, Miyagi prefecture Japan August 20, 2018.
For several months, developers and farmers in northeast Japan ...
Show more