Parrot ANAFI
Class

Travelling and outdoors; For video recording

Type

Quadcopter

Camera

Built-in camera, 16 megapixel, CMOS

Control

Remote device

Video recording resolution

4K Cinema 4096x2160 24fps
The flying 4K HDR camera that you can take with you everywhere on the go
ANAFI is the new generation of drone. It is the ideal go-to solution to film stunning high-quality videos and take outstanding photos, capturing the best moments of your everyday life.
• The flying 4K HDR camera boasts exclusive video and photo shooting capabilities thanks to its unique 180° tilt gimbal and up to 2.8X lossless zoom.
• Its ultra-compact foldable form means you can take this Parrot drone with you anytime, anywhere.
• Quiet and resistant to extreme weather conditions, ANAFI has a 25-minute flight time with advanced performances.
• Thanks to ANAFI's embedded Artificial Intelligence, take advantage of its automated flight modes to capture spectacular shots.
Full description
CAPTURE BREATHTAKING VIDEOS & PHOTOS TO TRANSCEND YOUR EVERYDAY LIFE
This new generation of flying camera offers you the most advanced 4K HDR imaging system.
ANAFI is the first drone to feature a 180° tilt gimbal, capturing unprecedented shots from inimitable angles, up to 2.8X lossless zoom to visualize details clearly and 3-axis image stabilization to shoot ultra-stable videos and photos.
SNAP SPECTACULAR 4K HDR VIDEOS & 21MP PHOTOS
ANAFI shoots all your escapades in ultra-high resolution, so you can relive your most magical moments over and over again. It has an integrated camera that offers stunning 4K HDR videos with 100Mbps bitrate and sharp 21MP photos.
The 4K Cinema provides professional quality videos as it uses the 17:9 video format.
HDR enhances all visible details by minimizing excessively bright lights and very dark shadows in your footage.
ANAFI's camera features a wide-angle aspherical lens. The optics of the lens were engineered to reduce lens flair and chromatic aberrations in all situations, resulting in sublime images.
SHOOT EVERY MOMENT IN HIGH QUALITY
Photography is a walk in the park with ANAFI. Capture professional quality photos of every moment, as each instant is exceptional.
To make sure each snapshot vibrates with life, ANAFI is equipped with advanced technology and features.
1/2.4'' 21MP CMOS Sony® Sensor*
Wide-angle f/2.4 ASPH lens
35mm focal length equivalent: 23-69mm (photo), 26-78mm (video)
Compatible with Adobe DNG/RAW
*Sony is a registered trademark of Sony Corporation
CREATE LOW ANGLE SHOTS WITH EXCLUSIVE 180° TILT GIMBAL
ANAFI's high-tech gimbal can tilt 180° vertically, ideal for new perspectives such as low angle images.
The camera tilts from -90° to +90° vertically without sacrificing on quality.
This unprecedented feature is a novelty for leisure drones, offering many new filming possibilities.
FILM SMOOTH VIDEOS USING THE 3-AXIS IMAGE STABILIZATION
ANAFI combines an integrated mechanical gimbal with ultra-precise digital stabilization for incredibly smooth shots.
The stabilization system ensures ultra-smooth videos and steady photos by reducing vibrations and the aliasing effect.
CAPTURE MORE EMOTIONS THANKS TO THE 2.8X LOSSLESS ZOOM
ANAFI's innovative zoom technology enables up to 2.8X lossless digital zoom in full HD  (1,4X in 4K), equivalent to an optical zoom.
Lossless zoom allows you to get a closer without any resolution loss.
Change the focal length to get close to the action while remaining at a safe distance.
ULTRA PORTABLE & FOLDABLE DESIGN
ANAFI is an ultra-portable drone that is both compact and lightweight and can be transported everywhere.
The carrying case, included in the pack, protects the drone during transportation. Once out of its carry case, ANAFI unfolds in less than 3 seconds.
DESIGNED WITH PASSION IN PARIS
Parrot, the European drone leader, designs all its drones in Paris. ANAFI was designed with passion by a team of engineers dedicated to creating a sleek, robust and innovative drone.
LIGHT & ROBUST
The carbon fibers of the structure are charged with empty glass microbeads that are filled with air and resist bumps and knocks. Due to this innovative material the drone weighs a mere 320g.
TAKE ANAFI WITH YOU EVERYWHERE
ANAFI can be taken with you on all your adventures, anytime, anywhere.
The collapsible drone unfolds in less than 3 seconds and fits in most bags and pockets. It comes complete with an equally tiny and foldable Parrot Skycontroller 3.
CHARGE ANAFI ON THE GO WITH ITS USB-C CHARGING SYSTEM
The USB Type-C charging system reflects the drone's portability.
Charge the drone's smart battery with a power bank or with the USB Type-C charging system of your smartphone or computer.
ANAFI is compatible with Power Delivery chargers that charge up to 60% faster than regular 5W USB-A.
SMART AND POWERFUL
ANAFI offers spectacular flight performance, letting you fly further for a longer duration.
Using its cutting-edge technology, ANAFI allows you to capture your best moments, anytime, anywhere.
OPTIMIZED BATTERY FOR ADVANCED FLIGHT PERFORMANCES
Experience adventures like never before. Equipped with a smart battery and a powerful propulsion engine, ANAFI can fly and film for 25 minutes.
Smart battery that features sensors designed to optimize the battery life.
You can check the battery level at any moment using the led indicators.
High density Li-Po battery for advanced flight performances.
EXPERIENCE POWERFUL FLIGHT PERFORMANCES
This remarkable new generation of drone resists winds of up to 31mph and reaches impressive speeds of up to 33mph in Sport mode.
With ANAFI's new transmission system, each drone leg contains a dual band antenna (2.4GHz & 5GHz), improving HD video streaming and the piloting experience up to 2.5mi away (*).
The aerodynamics of ANAFI were optimized, resulting in one of the quietest drones of its  category.
(*) in an unobstructed environment with no interference
ENJOY SAFE FLIGHTS
Parrot understands how important peace of mind is to fully enjoy a flight experience.
Geofence lets you define your very own virtual perimeter that stops ANAFI from flying out of a designated area.
The Smart RTH (Return to Home) feature means that if the drone ever loses connection or if the battery life is low, it will automatically come back to its starting point.
With Find My Drone, should you lose sight of your drone, you can easily make it beep at the tap of a button or find it on the map to locate and retrieve it.
​
EASY TO USE
Get ready to fly ANAFI using FreeFlight 6, the new intuitive piloting interface. With a tap of your finger, make automatic drone videos using state-of-the-art A.I. Film and photograph your most memorable moments and share them on social media such as YouTube and Facebook.
Execute cinematic videos using automatic CineShots. You have the option of four, Reveal, Epic, Rise, 360°.
Take selfies from the sky using SmartDronies. Impress your family and friends with your stunning videos.
Speed up or slow down your video in the blink of an eye without using complex software.
PILOTING FEATURES IN A TAP
The new interface of FreeFlight 6 promotes ease of use, offering a variety of flight solutions, adaptable to your level of expertise. The homepage along with the piloting interface were ergonomically thought out so that each user can easily access ANAFI's many features.
BECOME A MOVIE DIRECTOR WITH THE UNIQUE DOLLY ZOOM EFFECT
Thanks to ANAFI's innovative zoom technology, wake your inner moviemaker with Dolly Zoom that was inspired by the famous vertigo effect.
The Dolly Zoom effect uses ANAFI's unique zoom capabilities and its advanced visual tracking system to create a perspective deformation of the background. This feature is a Parrot exclusivity, and ANAFI is the only drone on the market able to do that automatically.
SPEED IT UP OR SLOW IT DOWN EASILY, YOU DECIDE
ANAFI's outstanding Hyperlapse and Slow-Motion video modes are innovative features that require no editing.
The Slow-Motion mode records automatically, instantly adding a slow-motion result, ideal for all your sport or action based videos.
The Hyperlapse mode immediately accelerates your videos so you can capture a sunset, a sunrise or even passing clouds.
ANAFI, BY YOUR SIDE ALWAYS THANKS TO ITS CUTTING EDGE A.I.
ANAFI's outstanding A.I. and visual tracking system includes advanced features:
Cameraman is an automatic framing assistant for all your aerial videos. All you have to do is control the movement of your ANAFI drone whilst the subject is automatically framed.
Follow Me* enables you to stay in the heart of the action at all times. ANAFI films you on the go without anyone piloting the drone directly. In complete autonomy, ANAFI follows you and moves at your pace both horizontally and vertically.
(*in-app purchase)
TAKE CINEMATIC SHOTS LIKE NEVER BEFORE
SmartDronies let you take automatic aerial selfies. Create fun moments with your friends and share them on your social media in a click.
Discover Dolly Zoom, Boomerang, Orbit and Parabola
Cineshots let you take automatic cinema style videos.
Discover Reveal, Epic, 360° and Spiral
Travelling and outdoors; For video recording
Built-in camera, 16 megapixel, CMOS
Video recording resolution
4K Cinema 4096x2160 24fps
1 Parrot Anafi Drone; 1 Smart Battery; 1 Parrot Skycontroller 3; 1 Carry case 16 GB Micro-SD card; 1 USB-A to USB-C cable; 8 Additional propeller blades; 1 Mounting tool;
What type of battery is fitted to ANAFI?
ANAFI is equipped with a Lithium Polymer (LiPo) battery. The latter needs to be handled and stored in a particular way if you want to maximize its lifetime.
How to charge a new battery
A new battery, just out of the box, is charged to approximately 50 %. As with any high-performance equipment, it is important to keep your battery in peak condition to optimize its capacities. We therefore recommend that you systematically recharge the battery for about half an hour after the end of your first few flights.
How to charge a discharged battery
Always wait for at least twenty minutes before charging a discharged battery. In any case, if your battery is still warm, this is the sign that it must "rest" before recharging.
How to store ANAFI's battery
If you are not using your battery, it must be stored correctly. Ideally, it should be stored with a charge of between 40 and 65% in a dry and well-ventilated area at a temperature of about 20°C (or 68°F).
How to store ANAFI's battery
To store the battery, use a flame retardant bag, such as a LiPo safe bag, or get a cork-lined iron box for optimal storage.
Practicing to improve your ANAFI piloting skills
Your first goal? Learn to take off and land on a fixed point while changing the orientation of the drone relative to your position. Spend some time doing this exercise to acquire good flying technique and improve your situational awareness. To start, we suggest that you fly within a range of 0 to 15 meters of yourself to ensure you have full control over the device and learn how to take off smoothly. Then, stabilize your ANAFI in the air before landing it. Before each take-off, make sure ANAFI is on a flat surface. Press the "Take-off" button to get your drone in the air. The drone takes off automatically and hovers at a height of about 1 meter without moving.
Controlling your drone
ANAFI's controls are easy to use and very intuitive. To make the drone rise, push the left stick of your Parrot Skycontroller 3 upward. To come back down, move it down. To make it rotate (yaw), move the left joystick to the right or to the left and observe the rotation of ANAFI in the chosen direction. If you are only using your smartphone, the FreeFlight 6 app displays two virtual joysticks, on the left and right of the screen, that respond exactly like those of Parrot Skycontroller 3: to make ANAFI go up, put your left thumb on the white circle that represents the left stick and slide it upwards. To go down, slide your thumb down. To make it rotate (yaw), move your left thumb to the right or to the left.
Moving
If you are using Parrot Skycontroller 3, control the pitch of your drone with the right joystick. If you are only using your smartphone, you can control the pitch of the drone with the right virtual joystick. In "Manual Flight" piloting mode, make ANAFI move forward by pushing the right joystick forward. To go backward, push the joystick backward. Moving the right joystick to the right or to the left makes ANAFI moves sideways in the chosen direction. By releasing the right joystick, ANAFI starts hovering again without moving.
How to clean the camera of ANAFI
A clean and well-maintained lens is sure to bring back high-quality images and videos! That's why it is important to put the lens cap of ANAFI's camera back on as soon as the drone is back on the ground. However, if you need to clean its lens, get hold of a glasses cloth and rub the lens gently. If the lens is very dirty, add a few drops of window cleaner.
I do not fly over other people
When using my drone, I make sure that I do not endanger nearby people or vehicles. I do not fly over them and I maintain a minimum safe distance. I keep well away from any groups of people
I respect the maximum flying altitudes
Outside authorized model aviation sites, the maximum flying altitude for recreational drones is 150 meters in France (400 ft in the USA). However, near to built-up areas (overflights are forbidden in all cases), beside aerodromes or sensitive sites and in certain military aviation training areas, this maximum flying altitude may be reduced to 100, 60, 50 or 30 meters only. I always respect these maximum altitudes to reduce the risk of a collision between my drone and other aircraft. Whatever the circumstances, I do not fly or I stop flying if there are other aircraft in the vicinity.
I never let my ANAFI fly out of sight and I do not use it at night
I keep my drone within a range at which I can easily see it unaided and I keep it within my field of vision at all times. It is possible to conduct immersive flights (FPV) and use "follow-me" drones under certain conditions, including having a second person present to ensure safety. Furthermore, in order to ensure the safety of aircraft flying at low altitude, such as helicopters performing rescue missions, the regulations forbid the use of drones at night, even if they are fitted with lights.
I do not fly my drone above public built-up areas
In built-up areas, it is possible to fly a small drone over my own private land when no members of the public are present provided I respect the maximum speed and altitude associated with the immediate surroundings (building, trees, etc.) and at which I can minimize any risks should I lose control of the drone. Under no circumstances do I use my drone above public areas.
I do not use my drone near airfields
I do not use my drone near any airfield where aircraft, helicopters, gliders, microlights, etc. may operate. Minimum safe distances must be respected. These may reach 10 km in the case of the busiest airports.
I do not fly over restricted sites
It is forbidden to fly over some restricted or protected sites, as well as their surrounding areas. These include, for example, nuclear power stations, military bases and historical landmarks, as well as nature reserves and national parks. I seek information on the presence of such sites before beginning a flight.
DRONES LATEST NEWS
LATEST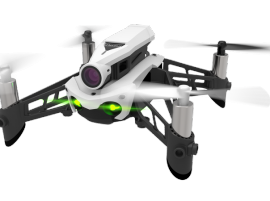 Parrot plans to stop selling Mambo and Swing drones
Parrot discontinued the Parrot Mambo Fly, Parrot Flypad, and Parrot Swing. According to Parrot, the company is exiting the toy and mini-drone industry, shifting its focus to prosumer and commercial drones.
Drone company Parrot, maker of the Anafi 4K folding drone, is reportedly leaving the mini-drone market. This week, Wirecutter confirmed that ...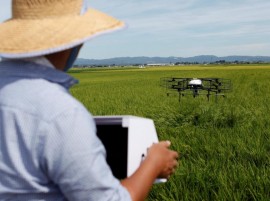 Drones offer high-tech help to Japan's aging farmers
The next generation farmhand in Japan's aging rural heartland may be a drone.
Nileworks Inc.'s automated drone flies over rice plants, spraying pesticide while diagnosing growth of individual rice stalks, during a demonstration in Tome, Miyagi prefecture Japan August 20, 2018.
For several months, developers and farmers in northeast Japan ...
Show more