JJRC X17
Class

Travelling and outdoors; For video recording

Type

Quadcopter

Camera

6K ESC HD; Gimbal; FPV

Control

Remote Controller

Video recording resolution

2688*1512 2.7K
Main Features:
● 6K HD professional version, two-axis mechanical self-stabilizing gimbal, stable shooting, clear picture
● The body adopts an innovative cross-folding and convenient folding design, which feels just right
● The brushless motor is powerful and wind resistant
● GPS + optical flow dual-mode, GPS intelligent positioning, and return to home, better prevent the aircraft from being lost
● 5G WiFi high-definition image transmission, can take pictures/video with gestures
● A drawer-type remote control
● Module battery, with power display, 11.1V 2850mAh lithium battery lasts about 30 minutes
Full description
JJRC X17 Main Features:
● With a Foldable and portable design, the drone is easy to carry.
● With 5G wifi function can be connected APP, APK system to take pictures, video, real-time transmission through the phone camera image.
● 6K HD ESC camera, support remote control of 90°, 120°super wide-angle shooting range.
● Dual Camera Switching. Switch to the lens at the bottom of the drone through the remote control, and switch the perspective of the aerial shot with one button to bring more perspective experience.
● A multi-function remote control with a display can synchronize the status of the quadcopter in real time. More data, more professional experience.
● HD digital image transmission system, strong anti-interference, and 800 meters distance transmission.
● GPS satellite positioning, can be accurately returned to the starting points, make it easier to control and avoid losing contact.
● Flow Positioning. Optical flow positioning, fixed point height, and it can shoot more easily and steadily indoor.
● Altitude Hold Mode. The quadcopter can hover in the air stably, make the shooting easier.
● Point of Interest. Select a center point, set the flight height, and the drone will automatically fly 360°around the point of interest.
● Human Figure Following. Lock the human figure, the drone will automatically lock the target.
● Headless Mode. With the direction of remote control as the center to control the flight which will no longer easily lost.
● Gesture Control. The shooting/video/flight direction of the drone can be controlled by gestures, which simplifies the complexity and it easy to control.
● TIK TOK Video Editing.You can use one key to beautify your face and add background music on the APP.
● A powerful brushless motor brings extraordinary performance, the highest speed can reach 30KM per hour.
● 11.1V 2850mAh intelligent lithium battery, 30 minutes of ultra-long battery life.
● 6-axis gyroscope, with gyroscope calibration function, stuck protection, low power protection.
● The quadcopter fuselage is made of high-strength and resistant engineering plastics, lightweight and durable resistance.
Sources:
https://www.jjrc.com/goodshow/x17-6k-gps-brushless-with-2-axis-gimbal-drone.html
https://www.banggood.com/JJRC-X17-GPS-5G-WiFi-FPV-with-6K-ESC-HD-Camera-2-Axis-Gimbal-Optical-Flow-Positioning-Brushless-Foldable-RC-Drone-Quadcopter-RTF-p-1760925.html?cur_warehouse=USA&ID=531930223&rmmds=search
Travelling and outdoors; For video recording
Video recording resolution
Expand Size: 43x43x6.7cm
17x11.5x6.7cm
Altitude Hold Mode; Automatic Landing Technology; Automatic Precision Landing; FPV; Flight Planning Technology; Folding Design; Follow Me Technology; Gimbal; GPS; Gyroscope; Position Hold Mode; Return to Home Technology
1 x X17 Drone
1 x Remote Control
1 x 11.1V 2850mAh LiPo Battery
1 x USB Charging Cable
4 x Spare Blade
2 x Screwdriver
1 x User Manual
1 x Storage Bag
DRONES LATEST NEWS
LATEST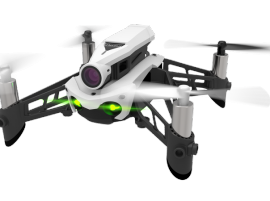 Parrot plans to stop selling Mambo and Swing drones
Parrot discontinued the Parrot Mambo Fly, Parrot Flypad, and Parrot Swing. According to Parrot, the company is exiting the toy and mini-drone industry, shifting its focus to prosumer and commercial drones.
Drone company Parrot, maker of the Anafi 4K folding drone, is reportedly leaving the mini-drone market. This week, Wirecutter confirmed that ...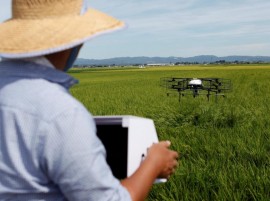 Drones offer high-tech help to Japan's aging farmers
The next generation farmhand in Japan's aging rural heartland may be a drone.
Nileworks Inc.'s automated drone flies over rice plants, spraying pesticide while diagnosing growth of individual rice stalks, during a demonstration in Tome, Miyagi prefecture Japan August 20, 2018.
For several months, developers and farmers in northeast Japan ...
Show more