3D Robotics (3DR) IRIS+
Class

For video recording, Travelling and outdoors

Type

Quadcopter

Camera

Replaceable camera, Suspension camera (By default, not included in the package)

Control

Remote device

Flight time

Up to 22 min
The 3DR IRIS+ is your aerial passport: all you need to get started shooting photos and video from incredible new perspectives. Powered by 3DR's world famous autopilot, IRIS+ is a robot that will automatically fly itself where you tell it to go, while keeping a camera dead steady with two-axis gimbal stabilization.
KEY FEATURES
● 16-22 minutes flight time*.
● Payload capacity 400g.
● Integrated LEDs on all arms for trouble-free directional awareness.
● Remote controller with on-screen telemetry for instant data as you fly.
● Ready to Fly – Inside the IRIS+ box is everything you need to fly. Simply attach the props, charge the battery, and you're ready to fly manually with the included remote controller autonomously with a Mac, PC or Android device.
Full description
As far as technicalities go, 3D Robotics Iris+ is definitely one of the first legitimate drones, thanks to its autonomous flight feature. While it isn't in the high-end spectrum of UAVs, it's a decent mid-range quadcopter.
When you buy this quad from 3D Robotics, you'll find one unit of the multicopter. Along with it are the transmitter-controller, a telemetry radio, an Android OTG cable, and a micro USB cable. Tall legs are also part of what's in the box, as well as a battery, a flight check list, and a copy of the owner's manual.
Setting up and flying the drone is easy. When you open the box, all you have to do is equip the propellers properly and you can prepare for take-off.
The remote control transmitter might need a few practice sessions, but those familiar with the basic layout of a video game controller wouldn't have a hard time with it. Nonetheless, it makes maneuvering a lot easier, especially when compared to other controllers available today.
This quadcopter with camera mount features a 5100 mAh 3S battery capable of providing 15-20 minutes of flight time. 3DR advertises that this quad can stay in the air for 22 minutes, but that's quite unrealistic in practice. What's achievable is 20 minutes of flight – that is, if you won't use the gimbal and the weather cooperates.
But if you make some adjustments to the gimbal, and if the winds are a little rough, you'll definitely have a shorter flight time. At the very least, you can enjoy 15 minutes of flight with the UAV.
The flight time is so-so; it's usable in many situations, but it's nothing truly impressive. The Phantom 2 Vision+ boasts of 25 minutes of flight time, so a battery with a 15-20-minute flight time capacity fails to impress.
If you have an extra $210, you can add a Tarot brushless gimbal to your purchase. This comes with a custom Iris+ mounting kit, which makes the mechanism more secure. The gimbal makes video clip shooting smoother, as it remains stable even amid sudden jerks and bumps.
The problem, however, is that the design isn't that optimal. When it holds a camera, it renders the SD slot and USB ports of the GoPro inaccessible. There's no quick release to counter this as well. While this doesn't affect video stabilization, it can certainly annoy some users – especially those who are fans of the Zenmuse H3-3D.
The set of navigation-related features that comes with this Iris+ drone is interesting. The true stars in this drone are these two features: Follow Me and auto mission planning.
The former uses 3DR's 3PV™ (third-person view) technology, which makes the quadcopter a hands-free camera-equipped device. Once it connects with your Android device, you can set it to follow your movement while keeping you focused on its camera. This is the first quad to offer this technology – and for a new feature, it's wildly impressive.
The latter, on the other hand, uses the DronePlanner 2 software. You can also use the newer Tower flight control app for this. Both apps are available through the Google Play Store. By drawing a flight path, the drone can follow a set of waypoints for easy, automated flying. It has the capability to keep the camera focused on a certain area through the region of interest waypoint feature.
Safety is something that 3D Robotics does well, which is why it's no surprise that the Iris+ is safe to fly. It has the basic geofencing feature that establishes a boundary the UAV cannot cross. It's capable of landing and taking off automatically, plus the function of returning where it took off once it's low on juice.
For video recording, Travelling and outdoors
Replaceable camera, Suspension camera (By default, not included in the package)
1282g (with batteries)
Max takeoff weight: 1682g
10 cm in height, 55 cm motor-to-motor
Store
Shipment
Region
Product
Price
To store

NORTHOX

UPS

FedEx

Fast delivery

Tracking service

Worldwide

3D Robotics (3DR) IRIS+

$499

Visit Store Buy Online

Amazon

Fast delivery

Tracking service

Worldwide

3D Robotics (3DR) IRIS+

$891

Visit Store Buy Online
Can I fly IRIS without an RC transmitter?
No, you cannot fly IRIS without a transmitter turned on and connected to IRIS. During an autonomous mission, IRIS will be controlled by the autopilot without input from the transmitter, but you should always keep the transmitter turned on and ready to use at any moment.
Can I use 4 cell batteries or other third party batteries with the IRIS+?
We currently don't support this feature for the IRIS+. The weight, dimensions, discharge rate and other specs of this battery were designed for this vehicle. Please note that we don't have enough information on third party products or devices to offer support or to determine if their functionality will be as desired. Use at your own discretion.
Can I use my GoPro Hero 4 with the Iris+?
While we have been successful in using the GoPro4 in our own internal video shoots, Tarot has not officially announced support for it at this time. Use at your own discretion.
Can I use other gimbals with the IRIS+?
Other gimbals don't come with the mounting plate required to attach it to the IRIS+. Having said that, please note that we don't have enough information on third party products or devices to offer support or to determine if their functionality will be as desired. Use at your own discretion.
How do I connect the telemetry radio to my computer or android device so I can monitor my IRIS+?
If you're planning on using a computer, first make sure you already have a ground control station software installed, such as Mission Planner. Once opened, connect your telemetry radio to your computer using a micro-USB to USB cable. Then select the proper COM port from the Drop down window in the top right corner of the screen and change the Baud rate to 57600. Before hitting the "CONNECT" icon make sure your IRIS+ is ready to fly. Click on the "CONNECT" Icon and you should now be connected to your IRIS+, meaning you can now monitor all the telemetry data sent from the vehicle to your computer in real time. Using an Android device is much simpler. All you need to do is download and install a ground control station software like Droid Planner 2. Make sure your device is OTG capable and compatible with Droid Planner 2. You can click here for a list of known compatible devices from the developer. Using the OTG cable that came with the radio, connect the black end to it and the blue end to your Android device. Open Droid Planner 2 and before hitting connect, make sure your IRIS+ is ready to fly. Once you're connected you'll be able to monitor telemetry data such as altitude, GPS location, flight mode engaged and so on. You'll also be able to engage flight modes like "Guided" and "Follow me" through this connection
DRONES LATEST NEWS
LATEST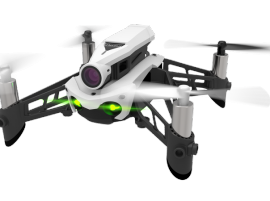 Parrot plans to stop selling Mambo and Swing drones
Parrot discontinued the Parrot Mambo Fly, Parrot Flypad, and Parrot Swing. According to Parrot, the company is exiting the toy and mini-drone industry, shifting its focus to prosumer and commercial drones.
Drone company Parrot, maker of the Anafi 4K folding drone, is reportedly leaving the mini-drone market. This week, Wirecutter confirmed that ...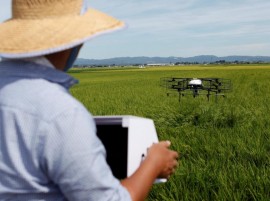 Drones offer high-tech help to Japan's aging farmers
The next generation farmhand in Japan's aging rural heartland may be a drone.
Nileworks Inc.'s automated drone flies over rice plants, spraying pesticide while diagnosing growth of individual rice stalks, during a demonstration in Tome, Miyagi prefecture Japan August 20, 2018.
For several months, developers and farmers in northeast Japan ...
Show more